Halftime heroes deserve respect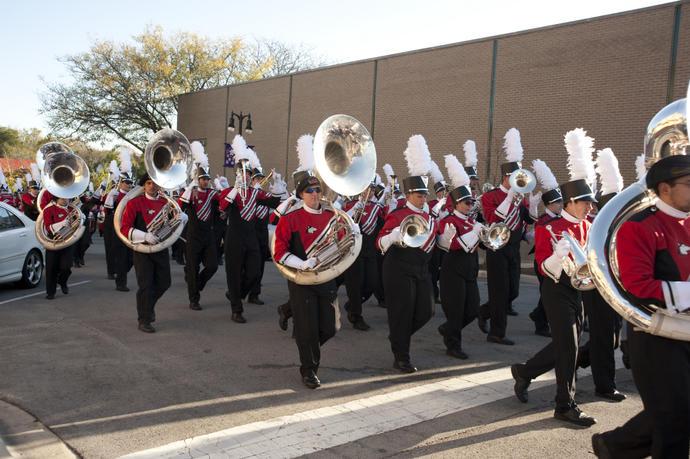 Shelby Devitt
August 27, 2012
To me, the last week of summer should be a balance between preparing for school and living out the final days and nights of freedom by sleeping in, lazing about the pool and generally being irresponsible.
For the past three years, I've spent my last week of summer differently. I doubt many would want to wake at 7:30 a.m. every day to do athletically physical work in the sun for hours at a time, memorize several pieces of music, flag or dance routines, learn dozens of sets of field drill and forego sleep, sanity and hygiene in order to prepare for the Huskies' first home football game, which is only a week away.
One hundred fifty NIU students did this 13 hours a day for six days last week in Huskie Marching Band camp (HMB).
I'm no fool. I've been a musician for over half my life, and I know the average student doesn't come to sporting events to watch us. I've learned to just be proud of ourselves, and if someone out there is dancing to our music, or comes over to slur, "Duuuude, trombones rule!" I consider it a victory.
So, if you'll forgive me for the narcissism that comes with excessive bragging, I submit to you three reasons why you should pay attention to the marching band this year.
1. Pop culture says we're cool.
Music video maestros OK Go come up with creative and spectacular one-take videos for most of their singles, and one of my favorites is the first video for their song, "This Too Shall Pass." The music escalates by adding marching band members hiding in the woods and bushes until the video climaxes in a big, joyful celebration.
Back in 2005, Gwen Stefani made a drum major uniform sexy in the video for "Hollaback Girl." Gwen's down with us.
In the '90s, Heath Ledger's character hired a marching band to ask a girl on a date in the movie 10 Things I Hate About You. Sure, he's gorgeous and charming and can sing well, but without the band to back him up, the whole display wouldn't have been nearly as impressive. I certainly wouldn't have said no to him.
2. We work harder than you probably realize.
Time to talk numbers. The HMB is made up of four units: winds, drumline, color guard and the Silverettes. Each has different rehearsal hours per week.
I'm in the wind section, and we have about six and a half hours of scheduled class time a week. This doesn't even include our performances. Any given home game day, everyone's involved for about six to seven hours. We have a performance almost every weekend from the beginning of fall semester through November. If the football team goes to the Mid-American Conference championship game or a bowl game, we go, too. We do parades, recording sessions and co-host a high school marching competition. For all this, most of us receive one credit hour.
There's obviously something special about this band to keep us coming back.
3. We're fun.
Honestly, the most fun I have had at NIU has been with my bandmates. When we perform, we go all out by dancing, singing, screaming and playing. We play songs across several decades and genres. If you pay close attention during halftime this weekend, I promise you'll recognize the majority of it.
We're there to entertain and support the team just like you, so next time you're in Huskie Stadium, instead of getting an overpriced hot dog at halftime, check us out. We work hard to sound and look awesome, and we love when people take notice.
The Huskie Marching Band is referred to as "The Pride of the Midwest," and it's worth sacrificing a week of summer to live up to it.