Track and field finishes second at Ball State Quadrangular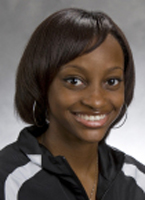 NIU track and field had ended its indoor regular season by taking second place at the Ball State Quadrangular.
The Huskies won three events, broke two school records and set many personal records.
"We had some areas we could definitely improve, but for the most part, the main thing was that every girl competed hard, and left it all on the track." said NIU coach Connie Teaberry. "They believed in themselves, and believed in their teammates, which propelled us to have some good performances."
Roneisha Frye broke the NIU record for the 60 meter hurdles by posting a time of 8.59.
"I'm a senior, and I wanted to make sure I got the record before I actually graduated," Frye said.
Janay Mitchell broke the NIU 60 meter record with a time of 7.54, which was also fast enough to win the event.
"I had a great start, and an even better finish," Mitchell said. "So I am looking forward to breaking it again during the MAC Championships next week."
Chanel Kellyman finished in second place just behind Mitchell, with a personal best 7.56.
To go along with her victory in the 60 meters, Mitchell also won the 200 meter race with a time of 25.19.
The 4 x 400 team of Kellyman, Rebecca and Julianne Cronin, and Rasheta Butler carried their success over from the Iowa State Classic last weekend, where they set the school record in the 4 x 400. They won their event at the Ball State Quadrangular with a time of 3:50.73.
Even with many good finishes at the Quadrangular, Teaberry said there are still some small things that need to be fine tuned before next week in the MAC Championships, where all the other teams will be at their best.