Coaches Corner: Todd Townsend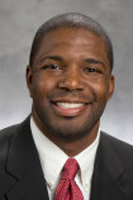 The Northern Star caught up with Todd Townsend, NIU men's basketball assistant coach, who talked about playing with Dwayne Wade at Marquette, and what he would say to NIU students to convince them to come out to one of their games.
Northern Star: You played collegiality at Marquette. Where did you play your high school ball at?
Todd Townsend: I grew up on the south side of Chicago. I went to Morgan Park high school for three years, then I got adopted and went to New Trier High School on the north side for my last year, before I went to a boarding school to continue to get my grades in order, before I went to Marquette.
NS: Eventually, you got to Marquette and played under the now Indiana Hoosier head coach Tom Crean and played with Dwayne Wade there as well. Although, from what I hear, Wade got to play with you?
TT: Yes, yes, people get it twisted, they say that I played with Dwayne Wade, well, Dwayne Wade got to play with us. No, I like to tease. Obviously, Wade was a big part of what we did at Marquette, but Tom Crean did such a good job that he got a lot of good players who took ownership in the school. Which is what we try and tell our players to do now, which is take ownership of Northern Illinois. We have some young stars on this team who will continue to develop, but what they have to learn to do first is continue to learn to take ownership. At Marquette, we had a hundred students come to the games at first, now there are thousands that come because the players took ownership, and that's what we're trying to do here.
NS: When you were at Marquette, you had Tom Crean and Dwayne Wade, a coach and a star player. Now that you're a coach, do you use the same approach as Crean when it comes to coaching talented players?
TT: You have to stay on them. It doesn't matter how good they are; the most talented players need the most coaching. There were days when Wade would get kicked out of practice, and everyone knows Dwayne Wade isn't a bad person or anything like that. But, he got "coached" every single day the hardest, and its like that now, today, with our players. Keith Gray, he's really, really talented, and we're on him the most. And it's the same with Nader; we're on him the most. Those two players have to get coached hard every single day, and that's what Tom Crean did.
NS: Obviously, students coming to games are very important to you. What would you say to an average student to convince them to come out to a game?
TT: I don't think anyone who sees us play can question the effort that our guys put forth, and I think that if our students were to come out and see the type of effort that their peers are putting in, I think they would appreciate it. Just a little bit of help, you hit a shot and they start cheering for you. The other team misses a shot, and the fans start booing and getting on them; that helps. That gives you an edge, and in college basketball, you need some type of edge to win basketball wins.
NS: You played overseas in Sweden with the Norrkoping Dolphins, and in Germany with the Duesseldorf Giants. What is the biggest difference between playing overseas and playing in the U.S.?
TT: Well, I played in Sweden and Germany. In Sweden, I was able to get away with a lot of things. I could use my first step in Sweden. In Germany, I was scared to dribble, and that's the biggest difference. Over here in the states, we get to use a first step and we travel literally every single time we touch the ball. In Germany, you have to dribble first, and then try to attack, and it makes a big difference.
NS: Fellow NIU assistant coach Jon Borovich said that you were the best player of all the coaches. What do you think: Who is the best basketball player among the coaches?
TT: Well, it's because Borovich has bad knees, Montgomery is 41, Lou just worries about his looks, and me, I just turned 30. I had back surgery about 18 months ago, so I'm excited to get back. But right now, it's definitely me. I might be able to steal a couple of minutes in the MAC, just a couple minutes. Get a couple of offensive rebounds, but if Borovich had some healthy knees, it would be him.