Northern Public Radio general manager dies at 53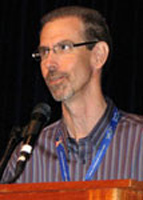 Coworkers of Tim Emmons said they will make sure Emmons' legacy of public radio excellence and public service continues at Northern Public Radio.
Emmons, 53, died at home Saturday after battling colon cancer for almost four years. He was the director and general manager of Northern Public Radio since 1997.
Staci Hoste, interim general manager of Northern Public Radio, which is affiliated with NIU, said it was under Emmons' leadership that the station formed WNIJ news talk and WNIU, a 24/7 classical music station.
"For a lot of the community, Tim was Northern Public Radio," Hoste said. "He was the face of the radio stations."
Emmons started out as WNIU's program director in 1988 and helped create WNIJ in 1991. He left the station to become a program director at KWMU in St. Louis, but returned to Northern Public Radio in 1995 as station manager. He later became director and general manager, a position he held for 15 years.
Bill Drake, program director of Northern Public Radio, said public radio excellence and public service were synonymous to Emmons. For Emmons, it was always about providing public service first and figuring out how to pay for it later, Drake said.
"They went hand in hand for Tim," Drake said. "One directly led to the other. The biggest thing I learned from him was that the listener comes first and the excellence in what we do led to that."
Northern Public Radio made significant changes in 1997 and has increased its weekly listener audience by 60 percent. The stations serve about 100,000 listeners each week, Drake said.
"A lot of that is directly attributable to what Tim did and what he laid down as our foundation," he said.
Donna Reid, director of finance and administration at Northern Public Radio, said she and Emmons would always visit each other's office to talk about personal or work-related topics.
"We just had that connection after working for a certain amount of years together, where we complemented each other on how we approached things," she said. "He's big picture, big thinking. I'm detailed, but we both appreciated what the other person did."
Hoste said Emmons was an inspiring person to work with because he always had a solution for any challenge. His leadership "propelled" people to be better prepared to handle their jobs, Hoste said.
"Tim was instrumental in the operations of the radio station until he was physically unable to anymore," she said. "He lived and breathed public radio."