Huskie briefs for 2/1/12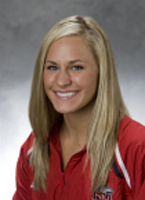 MAC gymnastics coaches selected NIU's Ashley Guerra as the Mid-American Conference Specialists of the Week Monday, according to a press release.
The Orland Park, Ill. native was recognized for her performance on the uneven parallel bars and balance beam during the Huskies meet versus New Hampshire Saturday.
Guerra is the first NIU gymnast to be given the weekly award this season.
"This is an awesome honor for Ashley as a senior because she has been working hard all year and has been getting progressively better as the season has progressed," said NIU coach Sam Morreale. "She has built up to this, but she knows that she still has room for improvement, and that's the great thing. As a coach, you want kids that want to excel and want to be at the top of their game. This year, these awards are being selected by coaches in the MAC, so it's great for our gymnasts to be recognized by other coaches."
Guerra's 9.800 score was both her season-best and the best overall finish in the uneven parallel bars competition.
On the balance beam, Guerra a score of 9.675, good enough for fourth place overall.
Mitchell named MAC Women's Athlete of the Week
After breaking to NIU track and field records, Janay Mitchell was named Mid-American Conference Women's Track Athlete of the Week Tuesday, according to a press release.
Saturday at the IWU Invitational, Mitchell was pivotal in helping the Huskies finish first in the 4×200 relay with a time of 1:40.23. Later in the 60 meter event, Mitchell broke her own school record with a new time of 7.55.
"Janay has been working extremely hard this season to get back where she was two years ago before her injuries," said Huskie head coach Connie Teaberry. "We're excited that she is the recipient of the MAC Athlete of the Week and hope her continued dedication continues to prevail on the track."
NIU track and field will take part in Iowa State Classic in Ames, Iowa between Feb, 10 and11.