Sycamore mayor given outstanding citizen award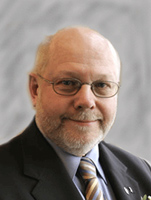 Rose Treml, Sycamore Chamber of Commerce executive director, said if one were to Google the definition of an outstanding citizen, a photo and description of Sycamore Mayor Ken Mundy would be among the first few results.
Mundy was recently awarded the 2012 Clifford Danielson Outstanding Citizen Award by the Sycamore Chamber of Commerce.
Treml said in an email the award is meant to honor individuals who have dedicated their time and energy to Sycamore in a meaningful way that impacts the residents.
"Ken Mundy clearly has done that," Treml said.
Mundy, who has held his mayoral position since 2005, said receiving the award is humbling and satisfying at the same time.
"Other recipients have loved Sycamore as much as I do so I'm in great company with them," Mundy said.
Mundy said before being involved in city government, he worked in several different capacities in his hometown of Sycamore, including selling shoes, washing dishes and bussing tables. Mundy also worked at National Bank & Trust Company of Sycamore with Clifford Danielson, a leader in the Sycamore business community for nearly 70 years and the man for whom the award is named, according to a press release.
"I have been serving the city of Sycamore continuously since 1972 after returning from the U.S. Navy," Mundy said.
Mundy also served as treasurer for the Sycamore Public Library Board and was Sycamore City Treasurer from 1981 to 2005 before being elected mayor.
"Being mayor has given me the opportunity to work with Team Sycamore and to learn from and respond to the people who have placed their public trust in me to serve them while working to maintain and improve the great community we have right here," Mundy said.
Bill Nicklas , former Sycamore city manager and associate vice president for NIU's Institutional Planning and Sustainability, nominated Mundy for the award.
"The man bleeds for his town," Nicklas said in his nomination. "I can think of no better steward or advocate for the unifying virtues and character of Sycamore."
Mundy said his efforts to improve Sycamore have included providing and improving public safety and public works services. He is also focused on attracting new businesses while retaining existing establishments and creating new jobs.
"I find it an honor to be part of Team Sycamore and to pay back the people of this great place by serving them in various capacities and ways over the years," Mundy said.
Treml said she got a little choked up when Mundy was presented the award.
"I know Ken better than any of the other past recipients and he is so deserving," Treml said. "He has such a long history with Sycamore; [It] just made me very happy for him."