Local grindcore singer not sick and tired of Sick/Tired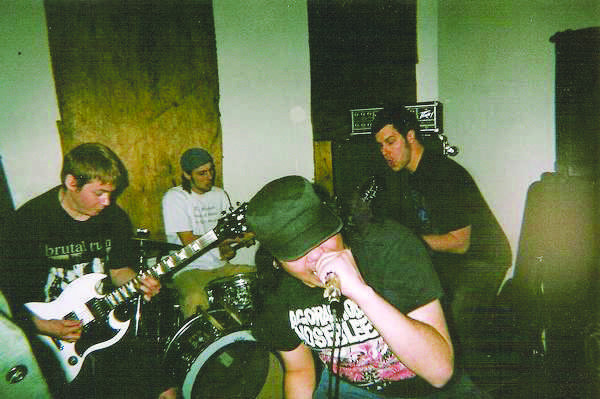 Legendary DeKalb grindcore band Sick/Tired may have lost powerhouse vocalist Robert Rabelo, but the band has gained a new frontman (and arguably much more) by taking in Chicago grind scene vet Adam Jennings — just in time for its tour, which started earlier this week and includes stops in Grand Rapids, Mich., Lima, Ohio, Philadelphia, Pa. and Raleigh, N.C.
"It's kind of ironic," band member Ben Gonzales said of Rabelo's absence. "[Rabelo] always wanted to tour, and just as we get this tour, he quits."
Though his time as the frontman for Sick/Tired has passed, Rabelo had nothing but good things to say about working with the band.
"It was a great time. I don't miss doing it right now, but some time down the road, I know I'm going to wish I was playing music with those three again," Rabelo said. "Ben and I have known each other since grade school. I don't think I'll ever find a guitar player that can play that fast, and if I did, I would never have the same bond with that person like I did with him."
While parting can be such sweet sorrow, it seems that the members of Sick/Tired have managed to maintain a heartwarming
level of friendship.
"There are no hard feelings with anyone," Rabelo said. "I still keep in touch with all those guys. Adam Jennings is my friend, and I think it is super cool that he is stepping up to do it."
The feeling is mutual.
"Dude's hilarious," Jennings said of Rabelo. "Great singer, great lyrics, great stage presence. I loved seeing him play. He's a great frontman."
Jennings recognizes that he has some big shoes to fill, but according to the rest of Sick/Tired, he has been filling them effortlessly.
"They're all very talented dudes, and I feel very privileged to be on board with them," said Jennings, who, although not a member of the band until recently, has been a part of S/T's story from the beginning. "I'd known [Gonzales] and Robert for years. They used to come out and see my old, old grind band in 2005, and I'd see Sick/Tired when they'd play Chicago."
Perhaps this reciprocal knowledge of one another's music had a hand in sparking what proved to be a perfect match between Sick/Tired and Jennings.
"I got to know the guys, I got to know their set really well. And then I saw that Robert quit. It's something I'd never thought about before, but it just seemed natural to ask them," Jennings said. "Apparently, they'd been thinking about having me join the band as well."
Jennings' repertoire spans from noise projects like Winters in Osaka and Diatribes, to grind bands like Paucities, to Urine Cop, which lies somewhere in between. Even with such credentials, Jennings refuses to limit his output and continues to seek new musical undertakings.
"I'm still looking to do more projects," Jennings said.
While Rabelo will always be a part of Sick/Tired's history, the members of the band all agree that Jennings is the beginning of a new and brilliant chapter of the group.
"It's bittersweet, you know?" said Jennings. "I respect the kid a whole bunch. It sucks to see him go, but if anyone had to replace him, I think I'm a good candidate … Hopefully people are open-minded to seeing me play with these guys.
And Rabelo agrees.
"I know the tour is going to go well for them," Rabelo said. "I just wanted to do something different with music, instead of playing just grindcore and thrash all the time, I'm not done with music just yet."
Look for Rabelo's upcoming harsh noise project and currently unnamed metal band in the near future. And watch out for Sick/Tired when they get back from tour. Jennings said the group plans to play more shows in DeKalb and Chicago upon their return.