NIU alumna becomes successful novelist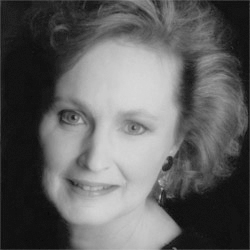 DeKALB | It was 20 minutes of inspired scribbling on a yellow note pad, but it was also the defining moment of her career: NIU aluma Jo Fredell Higgins knew, in that moment, that she wanted to become a writer.
Higgins won a 1976 Aurora Bicentennial essay contest with her story told from the viewpoint of Thomas Jefferson's chair.
She has since written for magazines, newspapers and published four books. She will release two more books – "A Song for Cecilia" and "Montgomery, Illinois" – this summer.
The novel "A Song for Cecilia," a historical fiction, will be released June 1. The story follows a young girl as she travels from New York to Peoria on the Orphan Train and grows up as the adopted child of a prominent Peoria family in the early 1900s.
Higgins herself grew up in Peoria. She said all of the historical information about the city in the 1920s and '30s is accurate. Only her characters are fictional and composites of people she has known in her life.
Higgins said she draws inspiration for her writing from many different places.
"I get [inspiration] from everywhere in life: seeing someone on a street corner, or reading a magazine, or watching television or hearing a friend say, 'Did you know..?'" Higgins said.
Her photo-history "Montgomery, Illinois" will be released in July.
"I'm a photographer…and I've always been a writer so the photo-history combines both loves," Higgins said.
She has also written the photo-histories "Naperville," "DeKalb," and "Geneva," in Arcadia Publishing's Images of America series. Higgins also wrote "Aurora" in Arcadia's Postcard History Series.
Higgins received a bachelor's and master's degree in education from NIU and taught English at Waubonsee Community College in Aurora. She retired from teaching four years ago and now writes full-time. In addition to her published books, she writes columns for "The Voice" Newspaper and Oracle News Magazine and contributes to Montgomery Patch.
She said she already has ideas for future works. She plans to continue the story of Cecilia and has written a manuscript about the year she spent living in Belfast, Ireland.
Higgin's first book, "Naperville," was published in 2001. She said she was teaching at the time and spent hours after work and on weekends writing her book under deadline.
Higgins said it can take a long time to get work published.
"It's a long process from the germination of an idea to writing it to getting the book in your hands," she said.
Receiving rejection letters from publishers can be frustrating, Higgins said, but it is a part of the job.
"The idea is you can never give up," she said. "You just have to believe, regardless of what field you're in, you have something to contribute."