Violent, property crimes in DeKalb rise 4% in 2020
DeKALB – Violent and property crimes in DeKalb rose 4% in 2020, according to an annual DeKalb Police report presented at Monday's City Council meeting. 
Violent and property crimes include homicide, criminal sexual assault, robbery, aggravated battery/assault, burglary, theft, motor vehicle theft, arson and human trafficking. Data presented at Monday's meeting showed a 4% increase in these crimes from 2019. 
In 2019, there was 1 homicide incident and in 2020 there were 4— a 300% increase. Robberies also increased from 33 cases in 2019 to 40 cases in 2020— a 21% increase. Motor vehicle theft also saw an increase of 44% with 41 incidents in 2019 and 59 incidents in 2020. 
Other crimes and offenses considered less serious, including battery, disorderly conduct or major motor vehicle offenses, fell by 15% in 2020, according to the annual report. 
The number of arrests from 2019 to 2020 fell, both for adults and juveniles. In 2020, 1,912 adults were arrested, and in 2019 2,283 adults were arrested. In 2020, 211 juveniles were arrested, and in 2019 367 juveniles were arrested.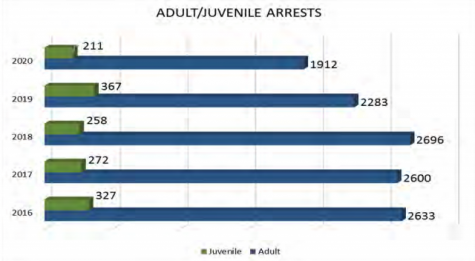 DeKalb Police Chief David Byrd and City Manager Bill Nicklas also discussed the steps the city has taken in terms of police reform, including the reorganization of the police department, mandated body cameras and more. 
"The year 2020 was an eventful year – pandemic, social justice movement, which demanded and gave our attention to and affected our police department in a number of ways, including changes and procedures and accountability and transparency," Nicklas said.  
While Byrd only recently joined the police department in May, he said within the past few weeks the department is looking to hire new officers that work towards the department's new goals focused on diversity. He said the 10 candidates for the position include three females, three who identify as African American, two who identify as Hispanic and five who identify as Caucasian. 
"When I walk into a roll call room, I want to see a picture of humanity, that's what I want to see," Byrd said. "So everyone is represented, and I think we're on our way to doing that. As far as the annual report, the guys work extremely hard in a pandemic, which is unprecedented to be working in that type of atmosphere."