Live the Greek life in fraternities, sororities
DeKALB – Greek life plays a big role in many students' lives in regards to the college experience. Because of their use of the Greek alphabet for their names, it may seem a little intimidating at first to understand Greek life.
There are four organizations that each Greek chapter at NIU falls under: United Greek Council, Interfraternity Council, National Panhellenic Conference, and the National Pan-Hellenic Council. 
United Greek Council 
The United Greek Council at NIU has 15 organizations, including men's fraternities, women's sororities and coed fraternities. Groups can range from three to 40 people and each chapter has a multiculturalism value. 
The United Greek Council, for example, has an Asian interest Greek chapter, Alpha Phi Gamma. Alpha Phi Gamma is not exclusive, but they focus on and raise awareness for the Asian community, Zoe Bragas, vice president of Alpha Phi Gamma, said.
Kappa Pi Beta, another Asian interest fraternity, has six pillars that drive them: academic excellence, philanthropy, cultural awareness, professionalism, etiquette and brotherhood. 
Philanthropy takes on a big role in many sororities and fraternities. Alpha Sigma Omega focuses on raising awareness for child abuse prevention. They have an annual Angel Tree event at the beginning of December that they coordinate with the Child Abuse Prevention Center.
There are a lot of opportunities to serve the community and speak out for personal values, Bragas said. She was able to speak at a vigil for the Stop Asian Hate movement in March.
Interfraternity Council 
The Interfraternity Council (IFC) oversees 11 fraternities at NIU. They act as a type of governing board, Jake Ecklund, president of Sigma Alpha Epsilon, said. 
Groups can range from 12 to 65 people and each chapter strives for academic excellence, serves the community through volunteerism and fosters a sense of brotherhood within their groups and with the overall community. 
National Panhellenic Conference
There are five National Panhellenic Conference sororities with one local service sorority and two national Latina interest sororities. Groups can range from 12 to 69 people. The Panhellenic Conference's goal is to assist their member organizations in cooperating with colleges and universities and to foster interfraternal relationships, according to the National Panhellenic Conference's website.
National Pan-Hellenic Council
The National Pan-Hellenic Council is home to the "Divine Nine," which are historically African American fraternities and sororities.There are three women's sororities and five men's fraternities at NIU and chapters range from three to 25 members. They recruit year round and students must have at least 15 academic credit hours in order to be eligible to join.
The Pan-Hellenic Council has been working on the National Pan-Hellenic Council yard project since 2007. The council wanted a part of campus they could call their own and have gatherings for current members and alumni for homecoming and other events, according to NIU's website. Currently, it is located on the north side of Stevenson C Tower.
To help out the yard project, students can purchase a brick and have it engraved on their site. The bricks will be laid to create a consistent patio for each organization.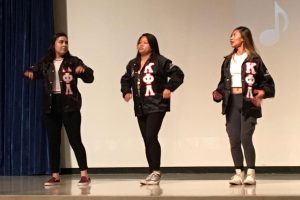 Rush Week
To start the Greek life journey, there is typically a process for students to undergo. Most sororities and fraternities have a rush week where students can meet up with different chapters and decide which few they like best. 
"We have a rush process with full recruitment sponsored by the IFC," Ecklund said. "You see all the different houses, then you're initiated and if you want a leadership position you can shadow whatever position you want."
This is a time for members and nonmembers to get to know each other and find out which chapter would suit them best. Rush week is usually held during the second week of classes each fall.
"There's a period of time where all potential members meet each other and they meet us to see if (Alpha Phi Gamma) is a good fit," Bragas said. "There's no pressure. If we give them a bid they don't have to be a part of the sorority."
Alpha Sigma Omega does not have a rush week at all.
"When someone wants to join, they will join," Ashley Mendoza, president of Alpha Sigma Omega, said. "We don't pressure people to join."
"Seeing the amount of diversity in (Kappa Pi Beta) and the different backgrounds the bros came from, getting to talk to them and really getting to know them… There really was a unique amalgam of brothers coming together," Elias Ramirez, president of Kappa Pi Beta, said. "It made me feel like I was at home away from home even before I was part of the brotherhood."
During Ecklund's rush process, he said he liked how down-to-earth his brothers are.
"(My brothers) are going to be real 24/7, they're straightforward, they're not going to play you and act like someone else," Ecklund said. "Others acted fake. Once you were initiated, they acted like a whole different person. Here, you know what you're getting into."
Sigma Alpha Epsilon is the largest fraternity in the nation by sheer numbers, Ecklund said. So, despite how big or small the chapter is, there is a connection to be built.
Alpha Sigma Omega is a smaller chapter by comparison, but Mendoza said she feels they have a closer bond as a smaller organization.
"We will have each other's backs regardless of what happens," Mendoza said.