Moreno bonds with Huskies as new distance runner coach
Jamie Moreno has demonstrated flexibility and competitiveness in his first year at NIU, but he is not a gymnast. Moreno is NIU's newest cross country head coach and distance coach for track and field.
Moreno has established himself as a fatherly figure amongst his team after just over eight months on the job. 
Dashing through the hiring process
Moreno was named the head coach of NIU's cross country program on Aug. 18, 2021. The timing of Moreno's hire was unique after Adrian Myers, Moreno's predecessor, left the program on July 6, 2021, to accept the position as the director of cross country/track and field at Tulane University.
"Sometimes with the college hiring process with coaches, it can take six to eight weeks," Moreno said. "In this case, they were a little bit rushed because of the departure of the old coach and the cross country season starting in the fall in August."
Moreno's path to becoming the Huskies' next coach wasn't without a competition of its own. Director of track and field and cross country Connie Teaberry indicated that at least 75 applications were submitted for the position. 20 of those lacked the proper qualifications.
His opportunity at the fifth head coaching gig of his collegiate coaching career came in the first week of August when he was formally offered the position. Moreno's decision to accept the job was based on NIU's previous success and its recruitment opportunities.
"I'd seen the success that the cross country program had had over the last four or five years, including winning a MAC title," Moreno said. "That showed me that one, there was potential to get really good recruits here and two, there was some support for the program."
Starting off on the right foot
Moreno's hire on Aug. 18 and the first competition of cross country's fall 2021 schedule on Sep. 3 left just over two weeks for the new hire to build rapport with his team.
"It's always hard when you are a new coach and you're in a new environment with new athletes that don't know you," Teaberry said. "They've been doing what the previous coach's practice plan was and then your plan may be totally different from theirs. It takes a little time for those athletes to get bought in."
It was crucial for Moreno to establish trust with the team early with a short amount of time until the beginning of the fall competition schedule. The first impression of Moreno was a positive one for freshman Emma Vorpagel.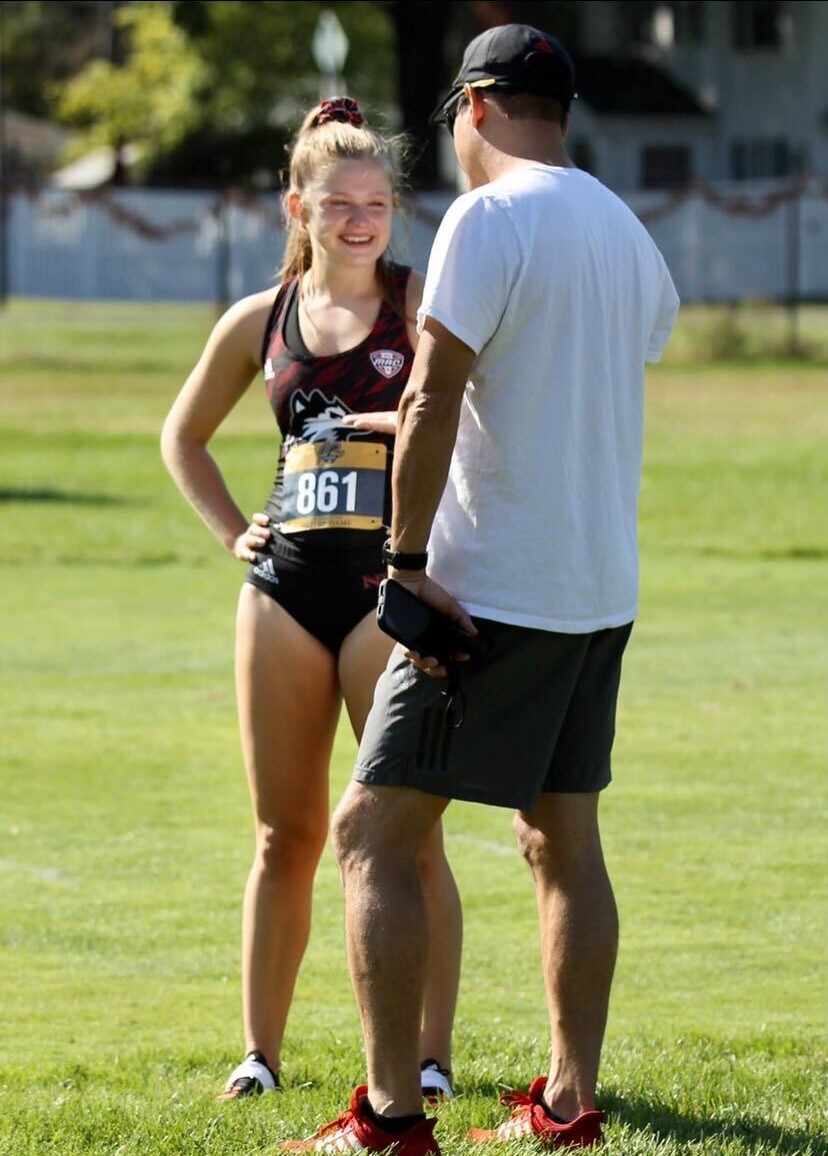 "The first meeting was good," Vorpagel said. "We got the impression that he was just sort of a goofball and he has totally grown into that. He has such a good sense of humor."
Establishing trust and using tact
Paired with his sense of humor, Teaberry described Moreno's relationship with his student athletes as positive.
"He's extremely positive and open-minded when it comes to the student athletes," Teaberry said. "When you're dealing with a program that had a previous coach, you've got to be willing to listen."
Moreno's approach to coaching involves maximizing the potential of each of the student athletes on an individual basis as opposed to a one-size-fits-all approach. 
"We talk about coaching the individual and trying to put a plan together that isn't a cookie-cutter plan when it comes to mileage and workouts and stuff," Moreno said. "I try to tailor that for every student athlete that we have on the team. I make that known that we're going to do what's best for the individual and try to figure out how we can get the most out of every person and not just do the same thing with everybody."
Moreno has also demonstrated tact when preparing his athletes for competition. The 27-year coaching veteran has relied on past experience coaching at various levels and as a student athlete himself to support his team.
"He has been really good with helping me get over pre-race nerves and anxiety I used to have before every single race," Vorpagel said. "Before races, a lot of people typically get pretty anxious. We have this connection where he will completely distract me from the race and allow me to focus on other things."
Providing results in year one
Many of Moreno's athletes have broken personal records in his first year as the cross country head coach and the distance coach for the track and field team. Four Huskie distance runners recently recorded personal bests during competition at the Jim Duncan Invitational on April 15.
Junior Kaitlin Miller and freshman Joy Jackson each set personal records in the 5,000 meters with times of 17:50.06 and 18:38.33 respectively. Senior Grace Louis broke a 3,000-meter steeplechase personal record with a time of 11:27.01. Vorpagel had a personal-fastest time of 2:18.24 in the 800 meters.
"He's doing a great job shaping the program with what he was given when he came in," Vorpagel said. "I'm excited to see where he takes the team as he has a lot of recruits coming in."
Planning for the future at NIU
One of Moreno's goals during his time in DeKalb is to acquire more talent in the coming recruiting classes.
"You can't be successful unless you recruit fast people," Moreno said. "I've always taken a lot of pride in developing runners."
Moreno also strives to return the Huskies to their glory days from years past. The previous cross country coaching regime saw four top-4 finishes in the MAC Championships from 2015 to 2020 and sported the school's first individual conference champion in 2019.
"I'm definitely competitive," Moreno said. "I'm not content with being middle-of-the-road or bottom-of-the-road in the MAC. I want to be a team that's top three or four consistently and hopefully, win that MAC title again here soon."
Moreno will resume coaching action Thursday when the track and field team begins competition at the three-day-long Drake Relays hosted by Drake University in Des Moines, Iowa.