NIU School of Music perform electroacoustic music during festival
Music and technology collided as enthusiasts gathered Wednesday for the opening night of NIU School of Music's Tenth Year Anniversary New Music Festival. The three-day event was helmed by Gregory Beyer, director of percussion studies and the new music ensemble.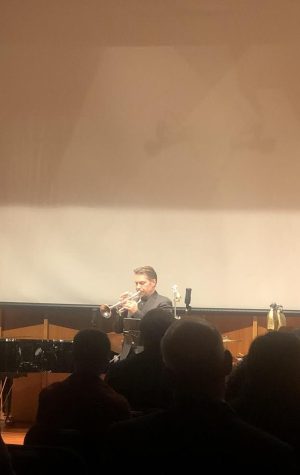 Beyer said that the event was a collaborative affair, and co-directors Brian Penkrot, a music instructor of theory and composition, and David Maki, a professor of music and coordinator of music theory and composition, were instrumental in the planning and execution of the event. 
The main feature of the festival was the work of guest composers Alexis Lamb and Elaine Lillios. Both composers are alumni of the School of Music.
"It hasn't been too long since I've been away from NIU, but it feels like a completely different environment, I love the collaboration and I'm just really excited to be a part of the celebration," said Lamb
DAY 1, AN ELECTRIC EXPERIENCE  
The focus of day one was on electroacoustic music and featured performances from NIU students and faculty and highlighted Lillios' work. 
According to student performer Austyn Menk, a second-year graduate student studying jazz piano, the idea behind new music is that the music breaks away from convention, and that different composers and musicians are trying to figure out what it means to them. 
"I feel like composers in this era are trying to explore that, you know? I think they're all trying to answer that same question," Menk said.
Menk went on to explain the electrical and technological components that brought the electroacoustics to life. The composer Lillios helped to create a software patch that captures live audio being produced by instruments in real-time and then played back through the speakers. 
The results of this technique were stunning. It created this immersive experience that really made you feel a part of the music. Although there were no lyrics to the performances, each piece played throughout the night contained potent emotions such as fear, hope, anticipation and tranquility. 
Penkrot also performed an original electroacoustic piece titled "Bluster / Paranoia," during the festival that really lived up to its name by evoking strong emotions.
"I wrote this piece sometime in early January, when things were maybe a little dark for me, and I just wanted to give back a little of what I was seeing in the world, and it made me feel better," said Penkrot.  
Another composer, Mark Snyder, also expressed strong emotions with his piece.  
"Especially with instrumental music and classical music, I can say so much more than I can in song," Snyder said. "I can say it with subtlety, and I can say it in color in ways that I can't even when I'm using lyrics." 
STUDENT COMPOSERS EXPRESS EXCITEMENT
All of the composers, musicians and performers did a good job of working together and pulling everything in. Everyone worked to help set up between sets, students and faculty and event organizers to make things run smoothly. 
Lillios was very active in this process, and said she was dedicated to making her vision come to life and loved the opportunity to be hands-on with her work. 
When discussing the inspiration behind her work, Lillios said the last piece "Don't. Blink." was inspired by a trip to the eye doctor. This beautiful simplicity of the concept turned into a powerful piece. 
She went on to explain that it was about articulation and the onset of sound. This created a sort of suspenseful experience that was somewhat haunting and exhilarating. 
"I am really excited I got to perform this piece, I love getting the chance to give the message of the composer to the audience," said Alexa Garza, a first-year graduate student studying violin. 
Lillios said she was very grateful to have had students play her music.  
"The students did a fantastic job on my song. I love festivals like this," Lillios said. "They build community, they introduce students to music that they may not have heard before. And you know they allow us to come together and listen to everyone's music."
Day two focused on Lamb's music and featured student composers. Day three focuses on string and percussion music. 
For Lamb's music, she said she was inspired by natural sounds and that on the second day she had an installation piece that featured corn husks and a lot of outdoor sounds. Overall she said she is very excited about the experience. Lamb also held a Q&A that went into more detail about her work. 
The final day of the festival is Friday, beginning at 7 p.m. in the Boutell Memorial Concert Hall in the Music Building and will feature the Avalon String Quartet. There will also be a closing reception after the concert at 9:15 p.m. at Tapa La Luna, 226 E. Lincoln Highway.