Monarch butterfly activists are being murdered in Mexico. Could it happen here?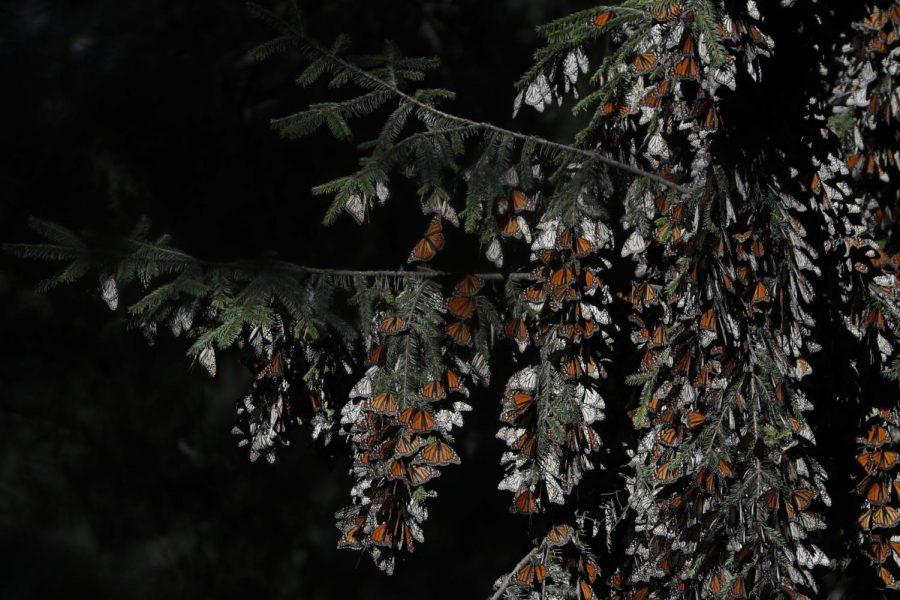 Many midwesterners will remember spotting monarch butterflies floating over the region's prairies in the dog days of August, hunting for milkweed after their long flight from the south. Eastern Monarch sightings have been rare after a long period of population decline, but a count from January 2019 showed a rebound back to 2006 levels.
The count is taken in Mexico, where the Eastern Monarchs migrate to dodge the cold, and where there has been dark news of late. Over the span of one month, two workers at the Monarch Butterfly Biosphere Reserve, a government-protected UNESCO world heritage site, have been murdered, according to the Guardian.
The body of conservationist Homero Gómez González was found floating in a well Jan. 30. The body of part-time tour guide Raúl Hernández Romero was found Saturday.
Just days before he disappeared, González posted a heart-wrenching video on his Twitter. It shows González surrounded by swarms of his beloved monarchs.
"Come and see this marvel of nature," he said in the video, as translated by the Guardian. "[The butterflies] are lovers of the sun, the souls of the dead."
Logging groups are likely behind these killings. González was a logger himself before his environmentalist conversion, according to a profile by the Washington Post. 
The area's primary industry was logging up until it became illegal because of González and his fellow conservationists' efforts. The loggers had been stripping the hills monarch nests in during their winter stay.
There's something sinister and backward about murder in response to empassioned defenses of butterflies and their homes. Make no mistake, nature is all but peaceful — but the tree, that passive and stalwart guardian breathing life into the atmosphere, and the butterfly, so delicate that to brush its wings is to fatally wound it, are pure expressions of evolution's rare tendency toward non-aggression and beauty.
The last time I saw a monarch butterfly was in July at DeKalb County's own Afton Forest Preserve, 11286 McGirr Road. On a sunny, mid-70s day, I caught sight of fluttering orange and gleefully snapped a photo.
I did some research that same day and found an alarming statistic: The Western Monarch, which spends its winters in California and is found west of the Rocky Mountains, has seen its population drop by almost 97% from late 21st century levels.
The Monarch Butterfly Sanctuary in Pacific Grove, California, counted 45,000 butterflies in 1997 and only 642 this season, according to KSBW. Conservationists gathered at the sanctuary in early January to brainstorm solutions for sharply declining milkweed growth, the monarch's favorite food source.
There's far less land available for milkweed to grow due to the urbanization which runs so rampant in the modern age, and what is urbanization but a more palatable form of logging? If logging is the razing of trees for profit, then urbanization is the destruction of land for growth and prosperity.
Prosperity is only a cover up for a different kind of profit, since the only ones prospering are the humans taking advantage of urban environments. Should we starve the Western Monarch to feed our appetites for strip malls?
I spoke to author Richard Powers Sep. 29 when he came back to his one-time home to talk about his novel "The Overstory."
I had picked up the novel soon after my butterfly sighting. It tells the story of anti-logging activists fighting to save Northern California redwoods from a cruel spree of corporate clearcutting.
The novel is hugely successful, having won the 2019 Pulitzer Prize for Fiction and selling more than "all his other books put together," Powers said at the talk.
It's an indication that perhaps some growing subset of the American people are aware that the guzzling of natural resources has accelerated too rapidly. Unchecked growth is pushing species like the gentle monarch to the brink of extinction and turning even our own kind against each other, as the bodies of González and Romero show.
I worry what could happen if conservationists manage to successfully turn the tide of Western Monarch population decline.
Will the bodies of American butterfly defenders start turning up in wells?