SA passes $1.2 million FY20 budget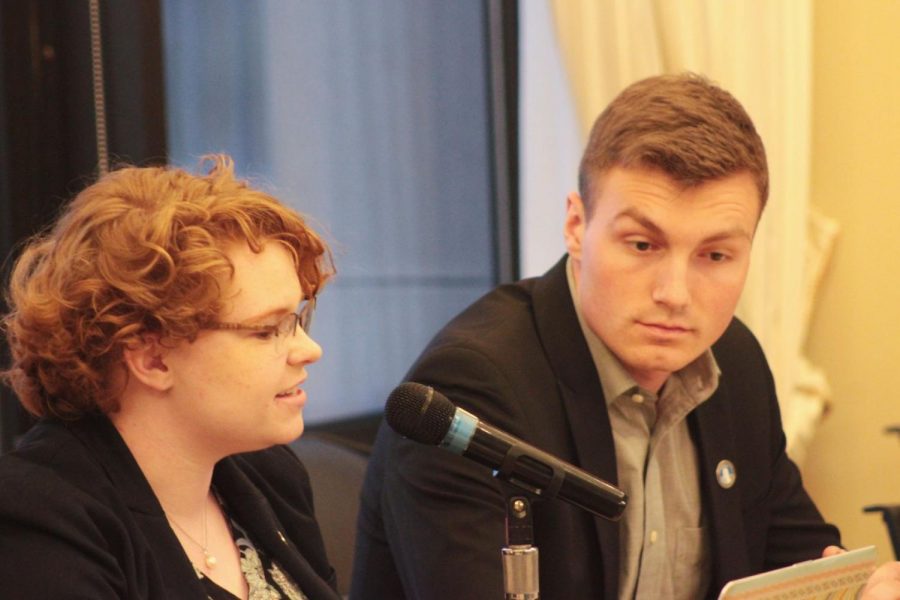 The SA budget was decided Sunday with a projected $1.2 million allocation to the SA by the university. This is down from FY19's $1.3 million allocation, according to a May 3, 2018, Northern Star article.
Budget recommendations are decided by the Finance Committee, which consists of five Senators, the SA Treasurer and up to three appointments made by the Treasurer. The budget was presented at the meeting by SA Treasurer Essence Coleman, then brought to discussion and debated among members of the Senate.
In her presentation of the budget, Coleman said there will be a 15% cut to student organization funding and a 5% cut to department funding in FY20.
The budget spreadsheet, available on HuskieLink, shows allocations split between six main categories: University Services has 86% of the total budget, Sports and Recreation has 6%, Greek and Cultural has 2%, Academic and Professional has 3%, General Programming and Activities has 1% and Security Fund has 3%.
University Services
University Services will be the largest recipient of SA funds, with an allocation of $1.02 million. This category includes university resources like Campus Childcare, RecWell and the Student Association itself, according to the budget.
Speaker-elect Ian Pearson, who sat on the Finance committee, said the committee's focus on student organizations explained its decision to allocate $286,800 to the Student Association — $2,800 more than the SA received last year. Of that amount, $10,000 will go to additional supplemental funding, which is available for student organizations to apply for.
Organizations can fill out the supplemental funding form available on the Student Association's website and submit it to the SA Main Office in Campus Life Building Room 180.
Sport Clubs
Sport Clubs will receive $67,500 in FY20, down from $75,000 last fiscal year. This marks a $24,500 decrease since 2018, according to the budget.
Coleman said this money will go to 17 different athletic or recreation clubs around campus.
Greek and Cultural
Greek and Cultural organizations will receive $23,895 for FY20.
Coleman said the four Greek councils — the National Pan-Hellenic, Panhellenic Association, Interfraternity and United Greek — will receive different amounts because each has different needs.
The National Pan-Hellenic Council will receive $1,000, down from $2,250. The Panhellenic Association will receive $650, down from $750. The Interfraternity Council will receive $1,000, down from $1,250. The United Greek Council will receive $1,360, down from $1,600.
Academic and Professional
Academic and Professional organizations will receive $36,894 per the Fy20 budget.
Coleman said the Finance Committee created a category this year for competitive organizations, including Mock Trial, Model Illinois Government, Model United Nation and NIU Forensics. Except for NIU Forensics, these organizations received at least $1,150 more than last year, according to the budget.
Coleman said the category is for organizations that attend competitive events for which they require additional money.
General Programming
General Programming student organizations will receive $8,740, up from $7,791.
This includes all organizations that do not fall under Academic and Professional, Greek and Cultural and Sport Clubs, like Active Minds, Deaf Pride and Red Riot.
Security Fund
The Security Fund will receive $35,000 in FY20.
This will go toward funding bag checks and security at parties held on campus, such as at the Convocation Center and the Recreation and Wellness Center.
Dues-paying Organizations
During discussion of the budget, three organizations were retracted funding for FY20, due to their constitutions indicating they are dues-paying organizations: Jazz Education Network, the National Association of Black Engineers and the National Association of Black Journalists. The total $2,400 from these three organizations will be allocated to additional supplemental funding.
Coleman said the Jazz Education Network and the National Association of Black Journalists will be updating their constitutions to reflect that they are not dues-paying. Pearson asked them to apply for the $700 they were originally allocated once their constitutions are updated.