SA holds a candidate forum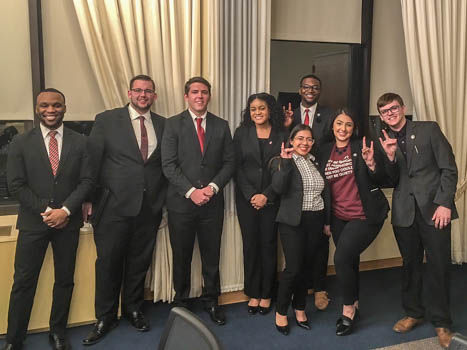 Students packed the Sky Room at the Holmes Student Center Tuesday for the Student Association's Election Debate Forum.
There are two tickets running for executive branch in the March 27 to 28 election, #YouMatterNIU and #MovingForwardNIU.
Election Commissioner Anthony Baca asked both candidates the same questions in alternating order to provide candidates on both tickets equal opportunity to represent themselves.
Audience members were provided the opportunity to submit questions to be read by Baca, capping them off at five audience questions per executive position.
PRESIDENTIAL CANDIDATES
What will be your main initiative for the Student Association for the upcoming school year?
#MovingForwardNIU
Candidate Victor Owoeye said he would use the presidency platform to make sure all students know what the Student Association does and how it's done.
"My main focus and initiative will be the transparency of the executive actions and when I say transparency, literally letting students know what SA is doing because while petitioning for 425 signatures so that I could do this today, it was alarming how many students had no knowledge of SA," Owoeye said. "They had no knowledge of the current administration; they had no knowledge that they have a $1.6 million budget."
#YouMatterNIU
Candidate Khiree Cross said his main initiative would be making advancements with the "You Matter" campaign. Cross said he'd like to turn his ticket's name into a campaign that focuses on bridging the gaps among communities.
"The campaign would give students a voice, a voice that a lot of people want, a voice that a lot of people want SA to support, but SA is a governmental organization, so therefore we can't dive into a lot of different issues that we want to," Cross said. "So my plan with 'You Matter' is to give students that voice that they want. So it would be a physical platform and also a social media platform to message."
What will you specifically do to help unify the overall NIU community?
#YouMatterNIU
Cross said his "You Matter" campaign would give students the opportunity to tell their stories when launched because students need exposure to diverse groups.
"There are so many issues that you don't see everyday, students with disabilities, military students, multicultural and relation students," Cross said. "There are so many issues that students need to hear, and I feel like this hashtag will give students the opportunity to voice their opinions and voice what they want to hear."
#MovingForwardNIU
Owoeye went back to the idea of transparency in the executive branch as a means to unify the campus community.
"It's easy to say we want unity, we want all students to be united," Owoeye said. "Nobody would want us to be divisive, however we can't unify people without letting them know what we can do. Being able to come to people's events, I would like to go to people's events that I've never been to. I'd like to know the organizations that I'm not privy John Petragallo, DeKalb Police Department deputy chief, exits the podium after Wednesday's special Committee of the Whole meeting discussing the department's review. to knowing because I'm not a SA executive member. You know, there are 328 organizations. I don't know all of them, and I'd like to unify them by showing my face."
VICE PRESIDENT CANDIDATES
What are your ideas and goals for the next year as an executive member of the Student Association?
#MovingForwardNIU
Candidate Sandra Puebla stressed the importance of transparency and explained how she became a SA Senator during the fall semester.
"The cabinet and the executive branch are supposed to come up to us and give us their reports, tell us what's going on," Puebla said. "I've actually only seen my opponent once from fall semester and this semester, and so I have a problem with that. It's not fair to us as senators, and it's not fair to the student body, and I want to change that."
#YouMatterNIU
Candidate Devin Halicki said he would like to initiate more collaboration between SA and students because of the importance of developing new organizations. He said there are 31 less organizations on campus compared to last year.
"I believe three things that we can do immediately after becoming Vice President, is first off we need networking sessions," Halicki said. "Second, weekly Huskie Link training as a lot of people do seem to have issues and we need to provide that support and third, collaborate with the [Student Involvement & Leadership Development] for an additional event."
How will you make your campaign work and what else other than just having a hashtag?
#YouMatterNIU
"The main driving issue is developing these personal connections and getting to know each other," Halicki said. "This is not about a hashtag. There's no way that we will ever present 'hey this is just about a social media presence or a hashtag' whatever that may be. It is about developing those relationships with students, getting out of our comfort zones and making real progress."
#MovingForwardNIU
"We do plan on moving forward as a university," Puebla said. "#MovingForwardNIU is about progress; it's about change. It's about new beginnings, and we are all people who have been involved with different student organizations on campus, and we've never had these executive [positions]. And some people may say that it's lack of experience or we don't know, but we want to change that. We want to change who is able to run for the Student Association executive board."
TREASURER CANDIDATES
What has the Student Association personally done to help you, or any other organization you are apart of?
#MovingForwardNIU
Candidate Braden Astonga-Rollins said his role as a SA Senator and chairperson has been very fulfilling for him.
"I absolutely love this campus, and I absolutely love this student body,"said Astonga-Rollins. "I mean, the ability to advocate for you guys on a daily basis, that's an incredible feeling for me. I can't tell you how many times I've been excited for my next day because I know I get to contact this administrator or because I know I get to work on some kind of project that I'm working on in my committee."
#YouMatterNIU
"The Student Association has not only offered me a position where I can be a student leader on campus but it has also broadened my horizons on different avenues of this campus and it's helped increase my knowledge of the campus events and how the campus is ran," Candidate Essence Coleman said. "Also, it has given me the resources necessary to do things that I and several others feel passionate about, and make it happen."
What methods do you plan on putting in place to inform new organizations of funding availability?
#YouMatterNIU
"One of the ideas I do have, like I mentioned before, is holding informational sessions for new and current organizations," Coleman said. "Also, at the beginning of the year all organizations are required to come to financial meetings so that would be another good way they can learn about how this whole budgeting process is going to work. It's going to be for them so it's important that they do come to those information sessions and if they do have any questions my door is always open."
#MovingForwardNIU
"Specifically, the things that I want to do to reach out to students," Astronga-Rollins said. "Like I said, is using my public affairs department and [director of] advertising as a resource to get students involved. We don't just need Facebook posts. We don't just need emails reminding student leaders; we need fliers on campus, we need to talk to the NIU website to put banners across the website, to put banners on places that students normally go."
STUDENT TRUSTEE CANDIDATES
What are your ideas and goals for the next year as an executive member of the Student Association?
#MovingForwardNIU
Candidate Melanie Sandoval said the student trustee role is much different because you are representing the entire student body during Board of Trustees meetings.
"What we need to do is listen to those students that come to us, stop being complacent, stop thinking that just one voice is one voice," Sandoval said. "One voice matters, right we keep saying 'all NIU, all NIU' exactly, one student is part of that all NIU. So when my students come and ask me for help, my students come and actually express their thoughts, their concerns, their opinions, I'm going to listen to them, I'm going to advocate for them because that is my job."
#YouMatterNIU
Candidate Nathan Hays said the role of the student trustee is much different from those of the other executive board positions.
"My main goal as student trustee would be to bring the student perspective to the Board and ensure that all trustees are aware of the issues that are important to all students," Hays said. "I will strive to represent the concerns of all students and be as transparent as possible. I would like to hold weekly office hours where students are able to voice their concerns, and I can pass them along to the board of trustees meetings."
What programs outside of your community have you been to, specifically the black community?
#YouMatterNIU
"Actually, this semester Alpha Phi Alpha fraternity hosted their annual event, Skate Jam, and I was in attendance at that so that was just one of those events I was able to attend," Hays said. "On top of that, not just attending these events, I've also been the one as treasurer who's funding these events. When an organization is asking and planning to put on these events it has to be approved by the Student Association treasurer, so I am specifically allowing these organizations to be able to carry out their mission and do everything that they're supposed to do within their organization by allowing them to have these events and giving them the money that they have been allocated throughout the year."
#MovingForwardNIU
Sandoval said being the graduate research assistant for the Center of Black Studies she holds the role of being involved in student life and creating events.
Sandoval said she is also the graduate assistant for Ebony Women, which is an organization on campus with the mission of uplifting women through community service and unifying them.
"I've been actually been fortunate enough to launch the new "So Full Friday" initiative that are happening every single Friday at the end of each month where we go over dialogue, and we provide a hot meal and we just encourage communication," Sandoval said. "We encourage dialogue, we encourage students to come together and enjoy their presence and just build that community. I have also been to several meetings."