Former Bull falls in career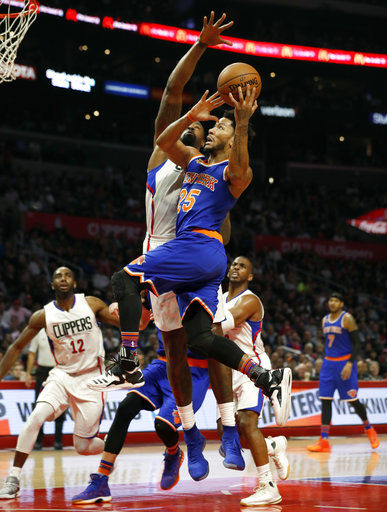 Derrick Rose, point guard for the New York Knicks and former Chicago Bull, tore his medial meniscus for the third time in his eight year career March 27.
It is a shame to see a player with his talent continuously go down with gruesome knee injuries.
The Chicago Bulls had less than a 2 percent chance of receiving the No. 1 overall pick in the 2008 NBA draft lottery. However, the pingpong balls bounced their way, and the Bulls selected the explosive point guard from University of Memphis and the kid from Englewood who played at Simeon Academy in Chicago, Rose.
It was time for Bulls fans to get excited about basketball again like they were during the Jordan era in the '90s.
Rose was a superstar in the making, but to the fans, he was more than that — he was a kid from Chicago.
Rose, along with the 2008 No. 7 overall pick, Oklahoma City Thunder guard Russell Westbrook, was unique in ways the NBA had not seen from the point guard position. Rose had the ability to create his own shot with his pure athleticism and finishing ability around the rim. Unfortunately, Rose's career is not trending in the same direction as Westbrook's.
He missed just over 40 percent of all regular season games during his Bulls tenure, according to a June 16 Chicago Tribune article.
Asking Rose to stay healthy is like asking DeMarcus Cousins to not get technical fouls — it might not happen instantly, but everyone knows it will happen eventually. Rose will have his fourth knee surgery this summer, with his first coming in 2012 when he missed 99 games because of a torn ACL.
It would be impossible to list every instance in which Rose sat out games because of soreness, hamstring injuries, orbital fractures or anything else that he might be capable of injuring.
In 64 games this season, Rose averaged 18 points, over four assists and almost four rebounds on over 47 percent shooting, according to ESPN. Even after three knee surgeries, Rose still had that quick first step and is still a top-three player on his team, which is impressive for his injury history.
David Aldridge, Turner Sports and TNT reporter, said Rose's latest setback will make things interesting for Rose and the lottery-bound Knicks this summer. "[The] Knicks' situation [is] Derrick Rose [is] officially out for the last five games of the season with a torn meniscus," Aldridge said in an April 2 Twitter statement. "[It] will be fascinating." According to ESPN, Rose is making just over $21 million this season in the final year of the five-year, $94.3 million deal he signed with the Bulls in 2012. Rose is rumored to have expressed interest in signing a deal this summer with the Milwaukee Bucks, who could use an established guard to go along with their young forwards in Jabari Parker and Giannis Antetokounmpo.
"Of course, [Milwaukee] is like home," Rose said, according to a March 9 report by the New York Post. "[Milwaukee is] only and [hour and a half] away. [It is] easy for [family] to come, but they usually don't come."
Whatever the case may be, it would be surprising to see any organization open their wallets that much for a player whose career has been derailed by injuries like Rose's. Rose will be an unrestricted free agent this summer.