U.S. District judge dismisses Rifkin lawsuit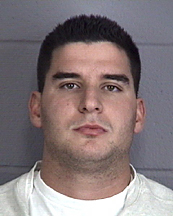 An Illinois district judge has dismissed a civil lawsuit by Andrew Rifkin, former NIU police officer, for alleged constitutional due process violations in a Dec. 23, 2011, indictment — one that never went to trial.
Rifkin filed civil lawsuit claims against two NIU police officers and Donald Grady, former NIU police chief, after an indictment against Rifkin on charges of sexually assaulting a student was dismissed by Clay Campbell, then DeKalb County State's Attorney. Rifkin cited Brady violations as the basis for his claims, said U.S. District Judge Philip Reinhard in a court opinion released Tuesday.
Brady violations happen when evidence favorable to the accused is suppressed by the prosecution in a criminal trial, according to Reinhard.
On Feb. 22, 2013, the case was picked up again by Richard Schmack, then newly elected State's Attorney, when he obtained another indictment against Rifkin for the same alleged sexual assault. Pretrial motions are ongoing.
Rifkin said witness statements and text messages that would have been favorable for him in trial were withheld by the NIU police department before his original indictment was dismissed and may have prevented another indictment, according to Reinhard.
The witness statements were discovered during court proceedings of the first indictment, but a transcript of the text messages, which Rifkin said were from the alleged victim of the sexual assault and were of a "friendly nature," has not been disclosed, according to Reinhard.
The civil trial was stayed for more than two years because the court wanted to wait for the outcome of the second indictment, but was opened again after Grady's attorney, Mike Fox, asked Reinhard to look at the submissions, Fox said.
"We're really grateful for the judge for doing it now," Fox said. "I think Grady served the NIU police department extremely well and served the community."
The court found Rifkin could not use the Brady violation as a precedent for his claims because his original indictment never proceeded to a trial, Fox said. Rifkin will be able to use the witness evidence in his upcoming criminal trial, according to Reinhard.
Rifkin's attorney, Bruce Brandwein, and NIU Spokesman Brad Hoey were not available for comment at the time this article was published.