Student survives tornado that killed 2 in Fairdale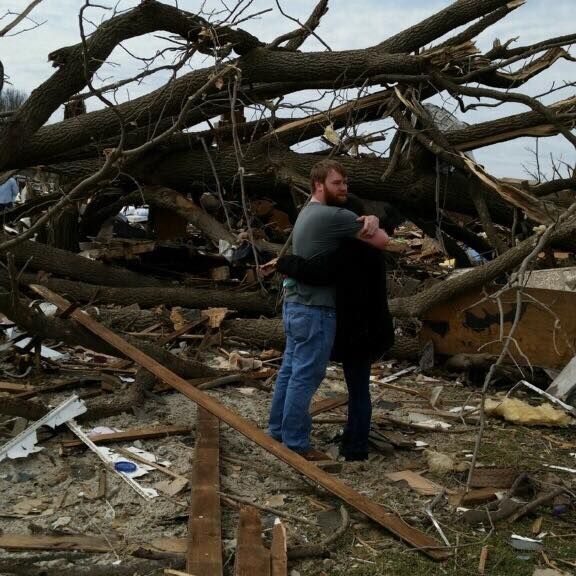 Thursday was like any other start to the weekend for Sarahlynn Basit, who was visiting her boyfriend's apartment in Fairdale.
Basit, a junior family and child studies major, said she always spends a lot of time with her boyfriend, Josh Kroesch, 23, in his home of two years in Fairdale. They had no idea it was even going to rain, much less that the town would be hit by an EF4 tornado on Thursday, Basit said.
Kroesch was running errands when Basit received severe thunderstorm warnings at Kroesch's apartment. Kroesch came home at about 7 p.m. and the two sought shelter in the basement at 7:09 p.m.
"We were sitting on the couch watching the hail and it started to get pretty bad so we went downstairs … . We [were] going to wait out the storm," Basit said.
Basit told Kroesch they needed to close the door to the basement and get in the closet as the weather grew increasingly severe. Within five minutes of going downstairs, Basit said she felt a pressure as the tornado passed Kroesch's home. That pressure felt like it lasted for 30 seconds, Basit said.
Kroesch's apartment, sandwiched between two other units, was the only one left standing, Basit said. Kroesch's neighbor, Geraldine Schultz, 67, who Basit referred to as Gerry, was found dead under the rubble of her home. Schultz's neighbor, Jacklyn K. Klosa, 69, was also found dead.
Kroesch's "apartment is destroyed," Basit said. "It's completely non-livable, but we were able to salvage all the items from the basement. Everything on the top floor was gone, pretty much, but [in] the basement everything was attached, so we were lucky for that."
The couple returned to Fairdale on a bus Saturday and picked up what they could from the remains of Kroesch's apartment. They returned for the rest on Sunday. Kroesch is staying at a hotel and Basit said they are in contact with the Red Cross to receive assistance.
A GoFundMe page has been set up at bit.ly/1JCY1ai, asking for donations to help Kroesch pay rent, buy a car and purchase items he lost in the tornado. The page will feature updates on Kroesch's progress.
"There's a lot of people asking and they just want to help, so it's the organized way to do it," Basit said.
Kroesch declined to comment.