SA senator charged with election info leak resigns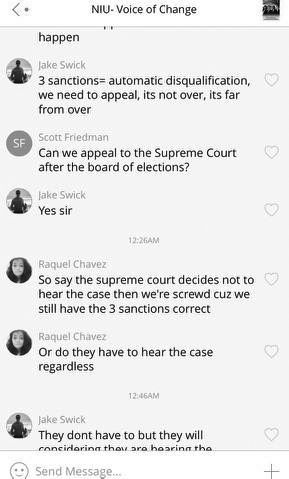 Student Association Senator Jake Swick resigned Wednesday night due to allegations of disclosing election information as an SA Board of Elections member.
Swick was to appear before the SA Senate on Sunday to face charges of giving election information to the Voice of Change ticket during the 2015 executive election, but the hearing was canceled because of his resignation. There was a direct correlation between the charges Swick was to face and his resignation, said SA Senate Speaker Dillon Domke.
Swick did not respond to a request for comment.
"Out of respect for my fellow senators, the student body and the Student Association, I feel as if the best course of action for me is to resign from office," Swick wrote in his resignation letter, according to an SA news release.
A screenshot of text messages on the group messaging app GroupMe between Swick and Voice of Change members was to be used as evidence in the Sunday hearing. The screenshot shows a conversation that took place March 26 in the group "NIU- Voice of Change," which included Swick, Student Trustee-elect Raquel Chavez and Scott Friedman, a Voice of Change campaign manager.
"3 sanctions= automatic disqualification, we need to appeal, its not over, its far from over," Swick wrote in the GroupMe conversation, referring to sanctions imposed by the Board of Elections, which led to the Voice of Change's disqualification from the executive election March 26. The Voice of Change's disqualification was lifted April 1 at an SA Supreme Court hearing.
Swick fell under a requirement of neutrality as a Board of Elections member, according to the SA Bylaws. The bylaws state, "No member of the Board of Elections, the vice president or the election commissioner shall play an active role in the campaign of any candidate."
Swick was nominated to the Board of Elections by Senator Adolfo Sto. Domingo a week after being appointed senator at large on Feb. 15. Domingo is a Sigma Nu member with Swick and Nathan Lupstein, who has since been elected president on the Voice of Change ticket.
Future legislation
The SA Senate approved the creation of an ad hoc committee to examine bylaws for the online voting system Sunday.
The committee will consist of one senator from every district and will seek to eliminate any gray area that may arise in future online elections, said SA Senator Robert Kreml, who sponsored the act and will chair the committee.
"One thing I really want emphasize with this is I am not throwing out the bylaws," said Kreml, who was the vice presidential candidate for the Standing for Every Student ticket. "It's not like I'm putting them on my computer and pressing delete and starting fresh. … I think what we do have just needs to be changed, altered slightly."
Domke said he thinks the ad hoc committee will be the best way for the SA Senate to move forward after Swick's resignation.
"The rules of the game are what you have to play by and if people aren't able to know what they are, then it's hard and it puts people in a sticky situation like we faced," Domke said. "Everything wasn't clarified and the gray area was much larger than it should have been, so we need to minimize that grey area. I think that's what we need to do moving forward."
Third SA resignation
Swick's resignation is the third by an SA member since the executive election was decided April 1. Governmental Affairs Director Ben Donovan and Academic Affairs Director Alex Martin resigned after the Voice of Change ticket's disqualification from the election was lifted.
Donovan was the presidential candidate for the Standing for Every Student ticket and Martin was one of the Voice of Change's campaign managers. SA President Joe Frascello said he does not plan to fill the vacant director positions.
Donovan said he resigned because he doesn't think the SA is concerned with accountability, referring Swick's hearing, according to an April 9 Northern Star article.
"At the end of the day, it seems to me from reading the bylaws and everything I know in [SA's] procedures … in a hypothetical world where Swick is convicted of violating his role as a Board of Elections member and as a senator … it stops there and there's no other way to hold anybody accountable," Donovan said, according to the Northern Star.
Martin said he resigned because of family and school obligations, according to an April 10 Northern Star article.
The Academic Affairs director is "a very important position on campus to serve the students to the best of your ability and sometimes that requires a lot of time," Martin said, according to the Northern Star. "I just felt like all the obligations I have currently towards the end of the semester … would possibly take away from all the time that I would be able to devote to the SA for the students."
Martin is a member of Phi Sigma Kappa with SA Treasurer-elect Marc Calvey and James Forman and Greg Lezon, Board of Election members.
Digital Editor Margaret Maka and staff writer Ashley Morse contributed to this report.