Fisher deserves MAC C.O.Y honors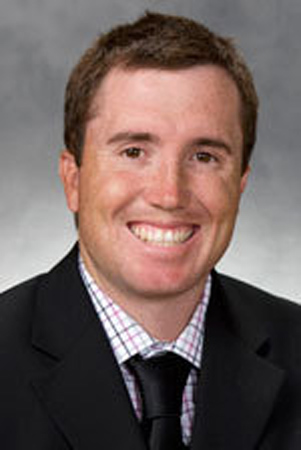 In what has been his best season at the head of the NIU men's tennis program, coach Patrick Fisher has made a big impact in the MAC.
Fisher took over the Huskies three seasons ago. This year's squad is showing signs of being a major threat in the MAC.
With six regular season matches remaining, NIU is 17-5 with three crucial MAC matches left after beating Western Michigan for the first time since 1997. If NIU can continue to play at its current level, Fisher should be the clear-cut favorite for MAC Coach of the Year honors.
Fisher has made turned the direction of the men's tennis program 180 degrees mainly in part to his first-class recruiting.
In his inaugural season, Fisher's recruit Maksym Bartiuk took the MAC Newcomer of the Year award and was named to the All-MAC First Team after posting a 13-6 record at first singles.
In Fisher's second season, Axel Lagerlof grabbed the Newcomer award, primarily playing second singles, and combined with Bartiuk to go 34-17, showing Fisher had more than luck on his side in nabbing the two European studs.
Fisher reeled in more than just Lagerlof last season. Dor Amir also found his way to NIU but could not compete in his freshman campaign. After redshirting due to NCAA international transfer guidelines, the benefits proved to be worth the wait.
Amir has stepped in at second singles for the Huskies this year, pushing Lagerlof to third while Roman Turtygin has fittingly filled in for the injured Bartiuk. After a year of no NCAA competition, Amir has emerged as the next Huskie to potentially win the Newcomer of the Year honor, which would make Fisher a perfect three-for-three as coach.
Amir has a team-best 18-3 record, including a perfect 9-0 at second singles and 4-1 record at first.
Fisher's biggest impact can be seen both in action and on a stat sheet. After a 2010-11 campaign that made Fisher constantly question the lower part of his lineup, he has revamped the team into a strong unit from top to bottom.
Every position in the lineup has a positive winning percentage, with fourth, fifth and sixth singles combing to post a 40-18 record. Throughout all six singles spots, NIU is 87-36.
Not only has Fisher made a name for the NIU program, but he has made a name for himself as the new top coach in the MAC. It only makes sense for Fisher to acquire the respect and recognition he has earned by being named this season's MAC Coach of the Year.