Local band Turbovamps! have toured small and large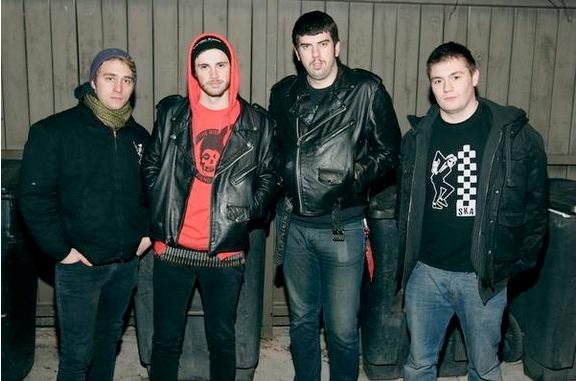 With its members split up among NIU, ISU and Columbia College Chicago, the Turbovamps! is proof that being in a band might not always be easy, but it is always worth the effort.
The Turbovamps! have the integrity of a local band and the drive of an up-and-coming act, and this attitude has allowed them to book venues large and small with some infamous national acts like the Misfits and Flatfoot 56.
The Northern Star sat down with senior communications major and Turbovamps! vocalist Stephen DeFalco to talk about some of the band's most memorable shows-in DeKalb and beyond-and the band's future shows and recordings that are in works for the upcoming months.
NORTHERN STAR: How did you and the other members of the Turbovamps! meet up?
STEPHEN DeFALCO: We all went to high school together, Willowbrook High School in Villa Park. We started the band our junior year, in 2005. From there, our bassist Sean [Morton] went to ISU, and our drummer Tommy [Maneykowski] and our guitarist Andrew [Smith] both left for Columbia.
NS: That's crazy, how do you coordinate that?
SD: During the school year, we usually use a fill-in bassist if Sean can't make it up, because that train ride is really expensive, especially for college students. And I have a car out here, and we have a practice space in Chicago, so I'm usually out there every weekend practicing. It's not that bad.
NS: I know that you guys have played a lot of really cool shows and you guys have some good ones coming up. Which was your favorite and what are you excited for in the future?
SD: My favorite show had to be playing with the Misfits on Halloween at the Vic [Theatre in Chicago]. It was our first big venue. We'd played with Flatfoot 56 a bunch, they've always been really good friends of ours. Our first really big show was with them, actually, in a church gym. It was cool, we've always played shows with them throughout the years. We've played with shows with bands like Left Alone-they're on Hellcat Records. We've played with Deals Gone Bad when they were out here, and that was a good time. But the Vic was something we've never experienced before… we got our own dressing room and everything.
We were doing sound check, and they're like, 'hey, your dressing room's downstairs.' We were like, 'what?' It was so much fun. And hanging out there afterwards, meeting [Misfits bassist] Jerry Only and talking to [Misfits/Black Flag guitarist] Dez [Cadena]. It's kind of surreal, because you're talking to them and the whole time you're like, 'it's really them.' The five-year-old kid syndrome kicks in.
NS: I can only imagine. And what kinds of shows do you have coming up?
SD: On Thursday the 10th, we're playing a pre-show for the Adicts. They've been one of my favorite bands for forever. I've met [Adicts singer] Monkey before-the Adicts played Fiend Fest a couple of years back with the Misfits so I got to meet him then. We have the Adicts show coming up, and we have the show with the Tossers here at Otto's on Friday the 11th.
NS: That's going to be an awesome couple of days.
SD: Yeah, and we just had a show at Debonair [Social Club in Chicago] on Tuesday, and then we have another show in the suburbs at this place called the Brauerhouse on the 25th, so March is kind of a hectic month for us. Besides the two shows coming up, we're going back into the studio probably in May, and we're going to do a limited edition 45 as an EP to our second CD that we're hopefully going to be putting out in the winter. A lot of it now is just booking as many shows as we can to get money for the recording, and playing, playing, playing and working on new stuff. Lots of new stuff to come, and a lot more merch stuff coming up.
NS: Vinyl, cassettes. Stuff like that is huge right now.
SD: Yeah, and we're probably only going to do about two hundred 45s, so it's going to be a really limited edition press. And everything's going to have a digital download for free, because there are those people that get the vinyls and never play them.
NS: What niche do you feel like you fill in the DeKalb music scene?
SD: We kind of bridge gaps in the DeKalb scene. There's the hardcore scene, and I love going to those shows-it's complete anarchy. That scene is a little heavy-It's definitely an acquired taste. Then, you have other local bands, like Lucinda, that are more pop punk. I feel like our music is kind of bridging that gap. All the people that like the harder stuff can get into it, but we have lighter, ska-type riffs, too.
We really try not to have a sub-genre label. It's like, well, 'what kind of punk are you?' and, well, I listen to everything. I was just listening to Kate Nash, I mean it's a guilty pleasure. I'll put on She and Him or the Fleet Foxes. But, I'll also listen to Anthrax. Our music has so many influences, and we try to play the songs that we like, so hopefully with that, everyone can enjoy it.