Miranda Lambert set to hit NIU convo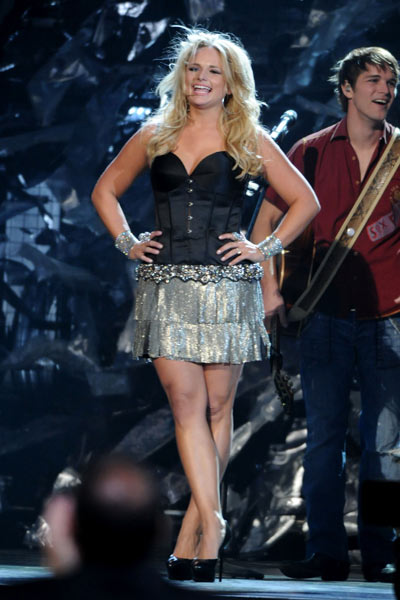 NIU is about to be hit with a powerful Texas tornado of country music.
Miranda Lambert, in her first-ever headlining tour, will take the stage at 7:30 p.m. Friday at the Convocation Center. Lambert will be joined by special guests Eric Church and Josh Kelley.
The Northern Star recently spoke with Lambert about the upcoming concert and her first trip to DeKalb.
NORTHERN STAR: You are from a little town in Texas; do you feel more at home or enjoy coming to places like DeKalb instead of big city places like Chicago?
MIRANDA LAMBERT: I love the small-town feeling of where I am from, and I am sure DeKalb will have a similar feel. I also have a farm in Oklahoma that I love because of the small-town vibe. There is something about country folks that just makes me feel at home. I love visiting Chicago; it's a beautiful city and one of my favorite places, Joe's, where I love to perform is there.
NS: Why did you decide to make DeKalb a stop on your tour?
ML: The good news is that my booking agent comes up with these touring plans for me, and I don't actually have to figure it out. I wish I could take credit for it, but it was his idea.
NS: Do you know or can you give a preview of your set list? Will you be playing more new songs or some older favorites like "Kerosene?"
ML: Our show is all about leaving your problems at the door and just escaping for a few hours and having fun. We always try and give it our all and the more the crowd is engaged, the more we get into it. Anything from my hits to lots of new songs off my album Revolution, some from Crazy Ex-Girlfriend and of course Kerosene. Some rockers like "Gunpowder & Lead," "White Liar," and "Sin For A Sin." And some of my ballads, most recently, "The House That Built Me," "More Like Her" and Dead Flowers."
NS: How is it working with Eric Church and Josh Kelley? Is it your first time working with them? Are you close friends?
ML: I'm thrilled with having both Eric Church and Josh Kelley out with me. It offers the fans a lot of variety and a great value for the ticket price. It's a very young and fun show to come and experience and there may even be some dancing. They are both great guys and we got to hang out a lot on this tour.
NS: You made history by receiving nine nominations at the Country Music Awards this year. How does it feel to have all your hard work recognized?
ML: 2010 has been an exciting and amazing year and the nine CMA award nominations are definitely a highlight to a record year. What a set of nominations, it's very exhilarating. Revolution is a record that I am very proud of and it makes me happy to know that it has made such a big impact on the lives of my fans and peers. It's an amazing feeling when your art is recognized.
NS: What do you plan to do after the tour ends? Any new music plans?
ML: I am already crafting ideas for my next album, and I'm going to start writing for it soon, which seems crazy, because I feel like this one just came out! Once I finish a record, I usually don't write for a really long time because I'm burnt. But this time I have been writing so much, just all kinds of songs with all different people. I'm really excited. Hopefully I will start recording in mid-2011.