Fashion does not fall short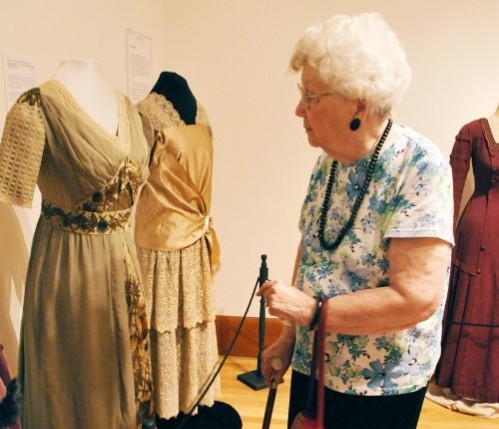 Autumn always leaves, but style stays around.
"Autumn Leaves," an exhibit on fall fashions, will be running through Dec. 4 in the NIU Art Museum.
The exhibit, according to museum director Jo Burke, uses "fashion as a metaphor" that explores "the connections we make through clothing." It features curator Barbara Cole Peters' collection of dresses paired with the autumn-themed writings of some of the great American writers, and represents every decade from the 1900s to the '90s.
Peters said when she began collecting about twenty years ago, "you could run across vintage clothes in Goodwill, at the Salvation Army, at flea markets–just about everywhere," and in every price range imaginable.
One of the pieces, a brown dress from 1906, was a flea market find that cost her about twenty dollars. She knew she had found something special, and "as it turns out, it's a piece from Paris with a label."
As vintage fashions grew in popularity, pieces were getting snapped up from second hand stores faster than collectors like Peters could get their hands on them. At this point, Peters turned to New York auctions to purchase pieces for her collection.
At the height of vintage fashion popularity, celebrities began buying out the auctions.
"You'd be bidding against Demi Moore," Peters said as she discussed the difficulties she began to have in collecting new pieces.
As Internet sales became popular within the last ten years, Peters switched to purchasing online. She developed business relationships with those in charge of buying and selling vintage clothing online, and gained a great advantage this way in obtaining new pieces. Because of her good standing with these businesses, they would purchase pieces specifically with her in mind.
"I have about a thousand pieces now," Peters said of the size of her collection. "I'm trying to get it down to 600 or 700. It's slow but sure."
While there is more money to be made in selling vintage garments than in exhibiting them, Peters is more concerned with sharing the knowledge and beauty that these pieces can bring than she is with making money off of them.
"For me, it's always about the historical article component," Peters said.
Burke said this exhibit is "an interesting way to review a century of drastic changes and dramatic shifts."
"Sometimes, guys will go, 'dresses?' but there's other things, like history," Burke said.
This exhibit represents not only the drastic changes that society has gone through– it represents change on an individual level.
"[Peters] wanted to do an exhibit about stages of life and seasons," said Diana Arntzen, Coordinator of Marketing and Education for the Art Museum of Peters' vision for the display.
"They have a finite life, just like we do," Peters said, expressing the importance of sharing her collection. "People need to see them while they still exist."
If you go
"Autumn Leaves" will run through Dec. 4 in the NIU Art Museum, located on the first floor of the west end of Altgeld Hall. The opening reception will be held on Thursday, Sept. 9, from 4:30 to 7:00 p.m with gallery talks from curator Barbra Cole Peters at 5:15 and 6:00 p.m.