DeKalb community welcomes Cast Iron Coffee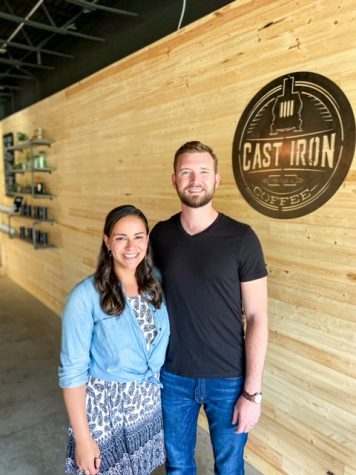 Cast Iron Coffee owners Kyle and Daria Mason opened their shop on April 27 to give college students, staff and community members a place to take a load off and get work done. Offering a variety of coffee and chai drinks, Cast Iron, 901 Lucinda Ave. Suite D, has a drink for both coffee and tea drinkers to enjoy in an environment completely unique to the Mason's aesthetic.
The Mason's picked the name Cast Iron Coffee, because it's a good representation of them and their family, Kyle said. 
"I like traditional things. My friends always joke that I'm like a 50 year-old man trapped in a 27 year-olds' body," he said. 
When Kyle and Daria visited coffee shops on their travels, they would discuss what they liked, didn't like, and how they would approach certain elements if they were to open their own. When the time came to pick an aesthetic for the interior of their own coffee shop, they incorporated metals and woods to make every customer feel as at home as they do around those details. The rustic feel in their cabin on vacation always gives a home-y vibe, Kyle said.
They picked their location, directly under the village commons bookstore because Daria, an alumna, and Kyle love college students, love NIU and love DeKalb. 
"We moved to Dekalb a few years ago, and noticed that on campus, students had just a couple chains to go to for coffee but nothing that felt like a home-y local place," Kyle said. 
Jamari McElroy, junior political science major, said she frequently visits Cast Iron and is a friend of the Mason's from church. 
"I get something new every time I go and it's always super good," McElroy said. 
Being friends for 2 years, McElroy and other friends have heard the Masons talk about opening Cast Iron and the dedication they put into their coffee shop for a while. 
"[Kyle is] super chill and very selfless," McElroy said. "Daria is super sweet and a great friend. She's great at checking up on others and taking care of her pack." 
The Masons had hoped to open sooner, but COVID-19 set back their grand opening. They put the opening off as long as they could and made several changes to scheduling. 
When they finally opened during phase two on April 27 of the stay-at-home order, their grand opening looked a little different than how most business owners expect it to be. To ensure no contact orders customers would call ahead to place and pay for their order. 
Once the Masons prepared drinks, they would place them on a table right inside the front door, Kyle said. 
Limited to 4 people in the lobby at a time now, customers must wear a mask and the Masons are sanitizing every surface that customers touch. 
Although they enjoy making their menu of traditional coffee and chai drinks, their favorite ones to make are ones they make up, or drinks that customers ask them to customize, Kyle said. When things are semi back to normal and school is in session, the Masons are excited to finally serve NIU staff and students.