Down the Lines: NFL Week 4, college football predictions
With almost a month of the NFL season complete, teams are starting to separate themselves from the pack and bolster their stocks on the road to Super Bowl LV in Tampa Bay in February.
Teams such as the Green Bay Packers, who look to be humming on offense and scoring in bunches, or defending Super Bowl champions Kansas City, who proved Monday that they are still the team to beat in the AFC.
Some teams, though, are making noise as potential dark horses this season. The Buffalo Bills have started the season red-hot at 3-0, but have yet to face its toughest divisional rival in New England who looks to have a bit of swagger back in its offense.
As for college football, last week can be described using one word: chaos. We saw two AP top 10 ranked teams fall last week to unranked opponents, both in embarrassing fashion. Include the fact that two other top 10 teams struggled late into their ball games against unranked opponents, you could tell that some schools are still shaking off the rust, and in a season where there are no real "tune-up" weeks, the underdogs had windows to make noise.
The third ranked Oklahoma Sooners surrendered 24 unanswered points to a Kansas State squad who lost to Arkansas State in its opening week match-up. This is the second time the Wildcats have spoiled the Sooners fun in just as many years.
The Sooners might have just played their way out of the National Championship conversation this year. The Big 12 is proving week after week that there is no clear top team in the conference. The Sooners will need to win out, which will include having to beat Texas twice, to have a chance at the College football playoff.
I'm running a hot hand coming into this week. I currently sit at a record of 15-5 and last week I was 3-1 Against the Spread. I feel it would provide a good opportunity Against the Spread, and also insights into local favorites. The hot hand has to end eventually, but I don't think it's this week. As always happy watching and always gamble responsibly.
NFL Week 4
Indianapolis Colts (-148) vs. Chicago Bears (+2.5, +126) O/U 44.5 Kickoff: noon Sunday on CBS
The Chicago Bears are still undefeated. How that seems possible after a dismal performance by now backup quarterback Mitch Trubisky is beyond my understanding. It took the Bears just three weeks to decide that they had seen enough of the 2017 first round pick. The offense has been turned over to Nick Foles. Foles though is not in for an easy test, going up against a stout defense that is only allowing 225.3 yards per game. The Colts offense though has been humming thanks to rookie running back Jonathan Taylor. Taylor is averaging 3.8 yards-per-carry, has 2 rushing touchdowns in 3 weeks time.
The Colts are going to rely heavily on their defensive front seven this Sunday, but due to the injury of Bears running back Tarik Cohen, the Colts should prevail Sunday. I'm taking the Colts as a lock and locking myself on the over at 44.5 this weekend.
Atlanta Falcons (+7, +270) vs. Green Bay Packers (-335) O/U 57.5 Kickoff: 7:15 p.m. Monday on ESPN
The Packers are also undefeated heading into week 4, but it should be expected when you are the second ranked team in total offense, rushing-yards-per-game and the top team in points-per-game. The Packs offense is not the problem this season. The defense though is middle of the road and statistically one of the most streaky secondary units in all of football. 
Luckily the defense is facing off against a team that has found a way to blow three second half leads in each of its games this season and ranks second to last in yards-per-game at 463. The Falcons are in for a shootout on Monday, though the way their season has gone, every week has felt like a shootout. Can quarterback Matt Ryan target receivers Julio Jones and Calvin Ridley enough, or will Packers QB Aaron Rodgers be able to rely on running back Aaron Jones and receivers Davante Adams and Allen Lazard to go tick-for-tack with the dirty birds? Green Bay's offense is just too good to go against. I'm locking the Packers to win, but the Falcons at +7 is a good handicapper to look at. Also with two top 5 offenses, take the over on Monday night football.
Los Angeles Chargers (+7.5, +280) vs. Tampa Bay Buccaneers (-350) O/U 45: noon Sunday on CBS
Forgive me for saying this, but the prolonged injury to Chargers quarterback Tyrod Taylor is the greatest thing to happen for this team since their decision to leave San Diego. I don't wish injury upon anyone, especially to a guy that by all accounts is well liked wherever he winds up, but the injury did show us that rookie quarterback Justin Herbert can ball. In his first two games, Herbert has completed 70% of his passes, thrown for 641 yards and 2 touchdowns. Those stats should be encouraging with the weapons he has around him in running back Austin Ekeler and receivers Keenan Allen and Hunter Henry. With any rookie though, not named Joe Burrow, Herbert has also had some bad looks throwing 2 picks and being sacked 4 times.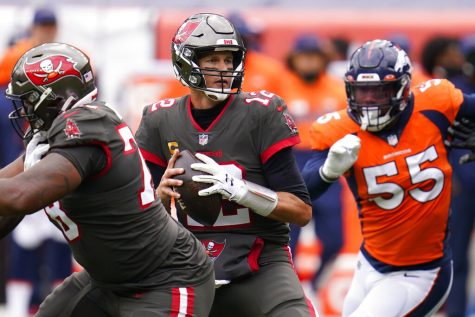 This match-up is one of the new guards vs. the old guard. The old being 6 time Super Bowl Champion Tom Brady. Brady's start in Tampa has been sort of lack-luster. He's been sacked 5 times, thrown 3 picks, one being ran back for a touchdown and has a completion percentage under 70 through three games. The Bucs running back by committee approach has only produced 3 touchdowns and the passing game still feels out of sync. This game seems like it could go either way with both defenses putting up top-10 numbers. I think that Herbert's ability to be a dual threat is going to be a challenge to contain. I'm taking the Chargers at +7.5 against-the-spread and the under at 45 in this one.
New England Patriots (+7, +235) vs. Kansas City Chiefs (-290) O/U 54: 3:25 p.m. Sunday on CBS
One simple phrase can describe this New England offense; different personnel, same result. Patriots quarterback Cam Newton has brought something to Foxborough that they haven't seen in a long time. A quarterback with the ability to run. Currently Newton ranks second on the team in rushing just under 25 yards shy of the top spot. Newton has also thrown for over 700 yards so far, and contributed with 6 total touchdowns between his feet and his arm. This is a very good team that can score points in bunches.
The problem is they are facing a team that can score more points in bunches. Chiefs quarterback Patrick Mahomes looks really good, throwing for 9 TDs and rushing for one as well. The team looked really well Monday when they faced their hardest test to date in the Baltimore Ravens and are still on cruise control to another playoff appearance. I think this will be a shootout, so I will take the Patriots to cover at +7 and the over at 54 for this possible playoff preview. 
NCAA Saturday Slate
Auburn Tigers (+6.5, +225) vs. Georgia Bulldogs (-290) O/U 44.5: 6:30 p.m. Saturday on ESPN
The most fair game on the Saturday slate is an interdivisional SEC matchup of two top 10 teams. The Tigers were able to knock off a ranked Kentucky team its previous time out, due to quarterback Beau Nix. Nix threw for 233 yards and 3 scores against the Wildcats which should give him the confidence to go between the hedges this weekend in Athens.
Meanwhile, Georgia looked flat out of the gate in its season opener against Arkansas, who is projected to finish last in the SEC, according to ESPN. It took a quarterback change and a second half come from behind victory for the Dawgs to knock off the Razorbacks. If Georgia wants to win this game they cannot afford to start off flat against a more superior opponent like Auburn. This game has the makings for classic grid-iron fight under the Saturday lights. I think that Auburn wins this game in a low scoring defensive battle, but solid quarterback play for the Tigers will lead them to a 2-0 start.
Virginia Cavaliers (+27.5) vs. Clemson Tigers O/U 54.5: 7 p.m. Saturday on ACC Network
This game shouldn't even be close, but because Clemson is the number one rated team in the nation I've put their ACC match-up on the schedule this week. The Tigers have two potential first round picks in quarterback Trevor Lawrence and running back Travis Etienne. Lawrence so far has thrown for over 500 yards and 4 touchdowns making him one of the clear favorites for the Heisman Trophy this season.
While I am extremely confident in Clemson's ability to win this game outright, 27.5 points is a huge spread for any team. Consider taking Virginia to beat the spread and pump up the over because Clemson should score a ton of points Saturday night.
Texas A&M Aggies (+16, +600) vs. Alabama Crimson Tide (-1000) O/U 52.5: 2:30 p.m. Saturday on CBS
Two top 15 programs square off in an SEC showdown that could decide who will represent the western division in the SEC title game. Both the Tide and the Aggies looked really good in their openers a week ago, but the Tide rolled to a whole other level. Quarterback Mac Jones torched the Missouri Tigers defense for 250 yards and 2 touchdowns, while the Tide rushed for an additional 4 touchdowns.It has been seven straight victories for the Tide in this yearly showdown, the last Aggie team to upset Bama had Heisman winner Johnny Manziel as its starting quarterback, but maybe this is the team to end that streak. I think this will be entertaining to watch, but in the end the Tide will roll over the Aggies. The Aggies cover though also take the over at 52.5 for this SEC West rivalry.