NIU plans for double-occupancy dorms, in-person events for fall
DeKALB – NIU is taking more steps to return to a sense of normalcy in the fall semester as students living on-campus will be allowed to have a roommate, and many in-person events will return. 
Beth Ingram, executive vice president and provost, announced at Thursday's Academic Affairs, Student Affairs and Personnel Committee meeting that plans for the fall semester are underway. The university doesn't plan on requiring COVID-19 vaccines as of right now because they're under an emergency use authorization.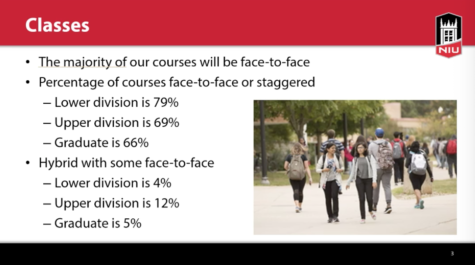 The majority of fall semester courses will be face-to-face, and classrooms will go through a daily deep cleaning. Cleaning supplies for students to use will be available in classrooms, Ingram said. 
On-campus housing and dining plans
Roommates will be allowed in the fall semester, and move-in times will be by appointment only. Students will also be allowed to eat in the dining halls in the fall.
Students living on-campus who aren't vaccinated will be tested on move-in day, and then every week of the semester, Ingram said. Any student and employee can also choose to be tested. Faculty and students with face-to-face classes and campus employees will be required to participate in COVID-19 surveillance testing. 
Athletics
Attendance for athletic events is determined by the Illinois Department of Public Health and the state's mitigation stage. The university anticipates that either 60% or 100% of attendance will be allowed. Attendees will be required to wear masks.
NIU athletics plans to return to normal travel and meal protocols for competitions and recruiting. Staff and students who aren't fully vaccinated will participate in COVID-19 gateway and surveillance testing.
Student activities and services
NIU is also planning to return to in-person events in the fall, including Week of Welcome and Homecoming, Ingram said. 
"This fall, we're aware that both new freshmen and sophomores have not yet experienced a normal Huskie campus life," Ingram said. "We expect to return to a normal schedule of academic, cultural diversity and athletic events." 
Conversations are still ongoing as to whether the university will require students to be vaccinated at large in-person events, Chief of Staff Matt Streb said.
"There may be certain events that we require vaccines to enter; I don't think football games will be one of those but, again, as I said, those conversations are still in the process," Streb said. 
The university also plans to return to normal recruitment for Greek life chapters, including first-year recruitment. 
More on-campus student services will also be available in-person, with an online option as well, including Counseling and Consultation Services, Center for Student Assistance, the Bursar and Financial Aid office and the Founders Memorial Library. 
"We remain committed to the health and safety of our campus community and to providing an experience that our students expect from us," Ingram said. "We continue to evolve in finding the best ways to support our students, and we've learned some great lessons over the past 14 months or so. We will continue to build on those lessons as we look forward to this fall and to future semesters."
Editors note: This story was updated at 2:30 p.m. Friday to reflect that this announcement was made at an Academic Affairs, Student Affairs and Personnel Committee meeting, not a Board of Trustees meeting.