Huskies showcased at spring football game
Offense and defense do battle in final spring practice of 2022
DeKALB — NIU football's spring practice schedule came to end at Saturday's spring showcase at Huskie Stadium. NIU held 7-on-7 and full team drills in front of a crowd of approximately 1,000 fans for their final practice before summer.
New year, old position for Dozier
The Huskies' offensive backfield following the departures of Clint Ratkovich and Jay Ducker featured a new face as sophomore wide receiver Billy Dozier took snaps as a running back. The New Lenox product had an explosive performance after breaking off two runs for over 60 yards, one being a touchdown for over 9 yards.
"He's had a tremendous spring," head coach Thomas Hammock said. "He plays running back, that's his most natural position. He has some versatility but we're going to use him as a chess piece in our offense."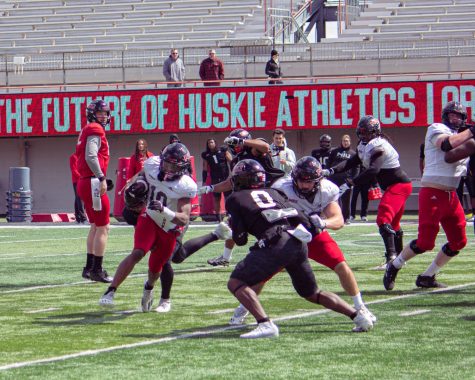 Dozier hails from a long line of running backs and spent time in the backfield as a hybrid player at Lincoln-Way West High School in New Lenox.
"His dad came up to me a couple weeks ago and said 'I played running back, his grandfather played running back, I think he's a running back,'" Hammock said.
Dozier splits carries at running back with sophomore running backs Harrison Waylee and Mason Blakemore. Waylee sported a red no-contact jersey while Blakemore played as a full participant. Sophomore running back Antario Brown, one of many contributors to the running game last season, was not in action.
NIU remained true to form with its presence in the rushing attack by scoring all of their touchdowns on the ground. Dozier accounted for two of NIU's three scores and redshirt freshman quarterback Jeffery Lomax took a low snap in for a 3-yard touchdown.
QBs showcased, others sidelined
Lomax was one of four quarterbacks who showcased themselves in the final spring practice. Redshirt senior Rocky Lombardi, Lomax, redshirt freshman Dustin Fletcher and sophomore Justin Lynch, a transfer from Temple University, each spent time under center.
"Lynch and Lomax did a nice job this spring," Hammock said. "(Sophomore quarterback) Ethan (Hampton) will be back in June and we feel like we have four guys that we got to figure out who's the best two-to-three."
Hampton was one of several Huskies who did not suit up for action. Sophomore defensive tackles Cade Haberman, Devonte O'Malley and cornerback Eric Rogers were among the list of players who remained sidelined Saturday morning.
Offense and defense battle to break the tie
The lone turnover of the day for the offense came after sophomore defensive end Raishein Thomas recovered a Waylee fumble in the red zone. The offense also made a mistake on a third-and-nine after committing an offsides penalty.
The coaching staff had been using a scoring system to decide the winner between the offense and defense at each practice. Both sides were even heading into Saturday's practice. Hammock indicated that he would not have a final verdict on the winner until he had a chance to review the film.
"Until I watch the tape, I can't make that assessment," Hammock said.
The Huskies will have the next few months to make any necessary adjustments before their 2022 season opener on Sept. 3. NIU will host the Eastern Illinois University Panthers at Huskie Stadium with the kickoff time yet to be determined.