Missed scoring chances prove costly for Huskies
Huskie defense holds steady in second period
WEST DUNDEE – NIU's inability to finish scoring chances was the main catalyst in its 6-1 loss at the hands of McKendree University Friday at Canlan Ice Sports. 
The loss extended NIU hockey's (0-17, 0-9 MCH) losing streak to 17 games while stretching McKendree's (7-8, 5-4 MCH) win streak to six games. With the loss, NIU has secured a losing season.
The game started off well for NIU, as they traded scoring chances with McKendree. Junior goaltender Ben Vutci held off attackers early and finished the game with 48 saves. 
McKendree broke the ice eight minutes into the game when freshman defenseman Trevor Voyda buried a pass to the front on a two-on-one rush. Junior forward Brad Richardson and freshman forward Kyle Munyankuge each scored before the end of the period to give McKendree a 3-0 lead after 20 minutes. 
NIU had scoring chances of their own in the first period, but they came up empty-handed.
Head hockey coach Brad Stoffers said that because his team is offensively challenged; they need to be ready to bury scoring chances when they come.
"We're not a team that's going to produce a ton of offense, so when you get chances, you gotta bury," Stoffers said. "You got to be locked in mentally and expect the puck to come to you." 
With goals coming at a premium for the Huskies, junior forward Austin Walny said the team has increased their offensive zone time and emphasized the importance of finishing their scoring chances.
"We definitely need to start burying on some of those chances because those are the only chances we're going to get throughout the game," Walny said. "Recently we've been getting, actually, a lot more, like, grade-A chances to put the puck in the net. But … we just haven't been. I think it's just a mindset thing, and we just have to be confident in ourselves to be able to do that."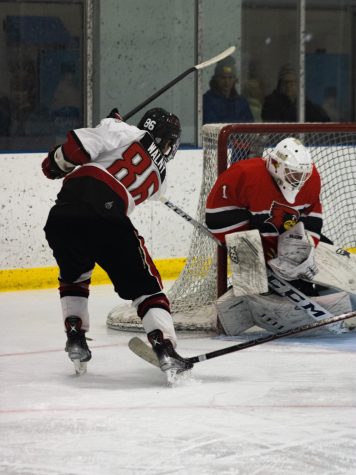 Walny broke through for the Huskies eight minutes into the second period when he slipped the puck through McKendree freshman goaltender Dylan Dallaire's legs on a breakaway. The goal cut the deficit to 3-1. 
Walny described how playing good defense led to his goal.
"The defenseman kind of made a move to the middle, and I blocked it," Walny said. "Jay (sophomore forward Jay Kliment) passed me the puck in the middle. Kind of just made a move around the defenseman – I wasn't really trying to do anything fancy – but made a move around him and then had a breakaway at the net and I kind of just tucked it five-hole." 
The Huskies pressed the attack after Walny's goal, but heroic saves from Dallaire kept NIU at one. Despite Dellaire's heroics, the second period was the first time NIU scored more goals than their opponent in a period this season.
Team defense was a positive aspect for NIU Friday. The forwards covered for the defensemen who stepped up at the blue line, and defensemen held tight gaps on incoming attackers to keep them away from the middle of the ice. 
Senior defenseman Alec Porzondek said talking on the ice and trusting one another was key to shutting down McKendree's offense. 
"You gotta trust your partner," Porzondek said. "If he's going to step up, you got to communicate to the high guy, the high forward or you got to pick up the slack." 
The Huskies struggled to find their footing in the third period. Munyankuge, Richardson and Voyda each tallied their second goal of the night to seal McKendree's sixth straight win. 
After playing a solid 40 minutes, Stoffers said the team got away from what gave them success earlier in the game. 
"It's a two-goal game going into the third period. Tried to probably get a little too cute," Stoffers said. "Tried to have some individual efforts. Got away from what was working a little bit, and then they started to pile it on a little bit." 
Having seen what McKendree's game plan looks like, Porzondek said the team feels they can take advantage of a very aggressive McKendree forecheck.
"Their forwards, they throw a strong forecheck which kind of leaves the center of the ice open," Porzondek said. "If we hit our center tomorrow curling and we communicate so we know that he's there, it's gonna be a lot easier to break the puck out tomorrow (Saturday). It'd be a lot easier to go and attack their zone." 
With only Saturday's game remaining before the month-long winter break, Walny said snapping the losing streak would give the team a huge confidence boost for the second half of the season.  
"It would be huge to get that win because when we come back, you know, we got something under our belt," Walny said. "It's been a rough year, and I think getting a win would definitely turn the team around mentally."
The Huskies and McKendree finish their two-game series at 5 p.m. Saturday at Canlan Ice Sports in West Dundee.
The Huskies will hold a post-game skate with the team with a special guest appearance from Santa Claus. The skate is free for all fans in attendance.