NIU hosts pro day for NFL hopefuls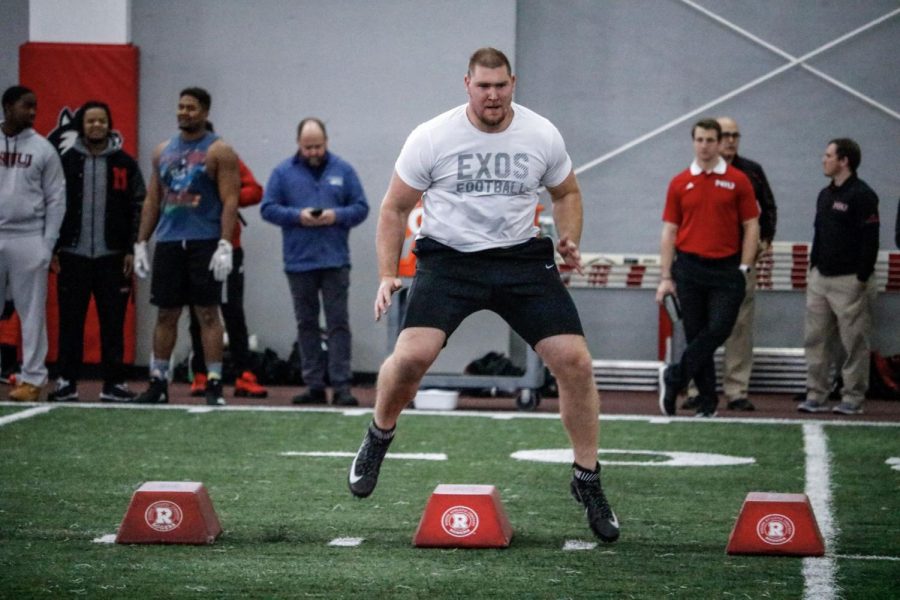 DEKALB — NIU football prospects looking to go pro gathered at the Chessick Practice Center Wednesday in hopes of impressing NFL scouts.
In total, 18 former NIU football players performed a variety of drills for scouts from 20 different NFL squads.
Defensive end Sutton Smith and offensive lineman Max Scharping both participated in the NFL Draft Combine this past weekend in Indianapolis and attended the Wednesday event.
Smith did not take part in drills at Pro Day, citing a minor ankle injury, advice from his agent and the lack of a position coach. Scharping declined to test his measurables, only participating in position drills.
Smith said despite sitting out the event, he's confident in his performance at the combine.
"I feel good," Smith said. "The process was long at the combine but right now I'm feeling good. I couldn't have felt better about my performance at the combine. Just being talked about positively is a really good thing. It ups my spirits I know the next step is going to be life changing."
While Smith sat out, fellow defensive lineman Josh Corcoran participated, tying for the highest mark on bench press with 23 reps.
Scharping said with measurable drills and interviews out of the way, he's ready to focus on football again.
"I was training for all of this 'underwear Olympics' stuff and I'm not really a track athlete," Scharping said. "I'm just trying to get back into football shape and focus on how I can prepare for camp after the draft."
Scharping did workout in front of scouts Wednesday with fellow offensive lineman Luke Shively.
While it was a smaller stage for Smith and Scharping, it provided an opportunity for other players to improve their chances of finding a roster spot in the NFL.
The group of participants included notable graduating Huskies like wide receiver D.J. Brown, who said he surprised even himself with his work.
"I kind of wowed myself a little bit," Brown said. "I just felt that preparation wise I came out and did everything I needed to do."
Brown ended the day with a 4.58 second 40-yard dash, a 291/2-inch vertical jump, and 9–feet-8-inch broad jump. Brown said the opportunity to get scouts to see him play in person is big.
"When they see you on film, they think 'okay, these are your best plays,'" Brown said. "They want to see you in person, see how big you are in person, how you run routes. I played in the slot all year, so when I came out here I did just outside routes so they see if I could run one."
Several other players got the chance to make impressions on scouts. Wide receiver Ezra Saffold, who graduated in 2017, recorded the best 40-yard dash time of the day at 4.44 seconds.
Wide receiver Jauan Wesley was just two thousandths of a second behind Saffold for top spot, but did register the longest broad jump with a 10-foot-5-inch leap. Defensive back Albert Smalls recorded the best vertical jump of the day at 35 1/2 inches.
The players now will play the waiting game, hoping to be selected in the 2019 NFL Draft that runs from April 25-27 in Nashville.
For those not selected, there is still a chance to become an undrafted free agent and join a team for rookie minicamps starting in May.