Why Every Girl in Her 20's Should Listen to Lorde's "Melodrama"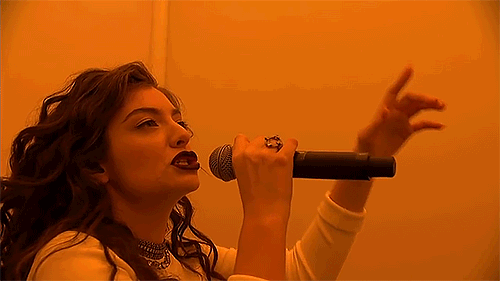 Despite her success at a young age, most people only remember Lorde by her thick brown curls, dark lipstick and crazy dance moves. The dance thought only doubled after she performed "Homemade Dynamite" off her newest album "Melodrama" at the 2017 MTV Video Music Awards by only dancing along to the music, not singing. If you missed it, you can watch the performance here.
While Lorde's sophomore album, "Melodrama" came out in June this past summer, it's still an album I find myself listening to almost every day. Her album depicts a coming-of-age story about heartbreak, loneliness, self-pity, self-love, finding happiness and the transition into adulthood.
She wrote the album after ending a relationship with her longtime boyfriend and finding herself alone in the world and New York City. While most girls in their 20's don't have famous friends or a luxury lifestyle, this album is easily one of the most relatable albums for young women on the brink of adulthood.
In the first track,"Green Light," portrays the heartache of a breakup in an upbeat manner.
"I realized this is that drunk girl at the party dancing around crying about her ex-boyfriend who everyone thinks is a mess. That's her tonight and tomorrow she starts to rebuild. And that's the song for me," Lorde said in an interview with Zane Lowe at Beats 1 Music.
The next song, "Liability," took things to a softer, more personal note. She describes a feeling almost everyone faces during or after a relationship ends, a feeling of inadequacy and imperfection. However, Lorde helps you realize at the end of the day, you have yourself and you should love your freedom.
"The truth is I am a toy that people enjoy- Til all of the tricks don't work anymore- And then they are bored of me."
While there's so many lyrics from the song I could pull to illustrate the identifiable themes in the song, I could only pick one and I think it speaks for itself.
Switch to a more upbeat tone,"Perfect Places" embodies how everyone has tried partying, sex or alcohol to make a moment perfect. As adulthood looms overhead, it seems like everything changes tremendously and hits you all at once. Everyone is in constant pursuit of a so-called "perfect life," but through our attempts we end up soiling what was already great to begin with.
"All of the things we're taking – 'Cause we are young and we're ashamed – Send us to perfect places – All of our heroes fading – Now I can't stand to be alone –  Let's go to perfect places."
I could write about the album all day, but I don't think I'd ever do it justice. The only way to really know is to listen for yourself. If anything, it's a great soundtrack to narrate your twenties because every song will relate to you in some way; it captures the tears, laughs, heartbreaks, parties and sleepless nights of adulthood.
If you like what you hear (or what you read), check out Lorde on her Melodrama World Tour on March 27 in Rosemont, IL at the Allstate Arena. Find tickets here.