Sports editor prediction game 3: Cubs win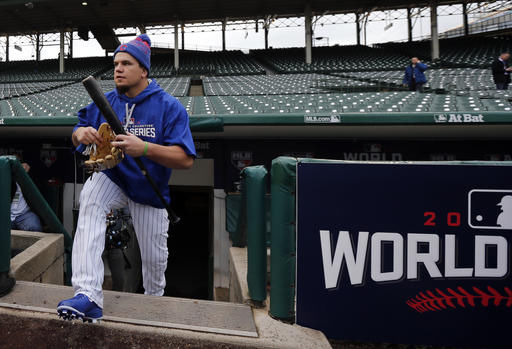 The World Series is headed to Chicago tonight after the Chicago Cubs tied the series at one game a piece with a 5-1 victory over the Cleveland Indians.
The major storyline for the Cubs is designated hitter Kyle Schwarber not being cleared to play the field. This means Schwarber, whose driven in two runs and has an on-base percentage of .556 in the first two games of the series, will be limited to pinch-hitting only. 
This more than likely means Cubs outfielder Jason Heyward will be reinserted into the lineup tonight. Heyward's bat has struggled mightily all season, and he was benched during the first two games of the World Series. He is not the only option in right field, however. 
The Cubs started outfielder Chris Coghlan in game one and outfielder Jorge Soler in game two. They also have rookie outfielder Albert Almora Jr. if needed.
Heyward is the strongest defender out of them all and it would be surprising to see him left out of the lineup for a third consecutive game. 
The keys to game three tonight begin and end with pitching. Kyle Hendricks, Chicago Cub starting pitcher will take the mound for the first time since clinching the National League pennant Saturday. 
Hendricks went 10-3 with a 1.37 ERA in 18 games at Wrigley Field this season, and looks to build on his success from his last start when he allowed only the first and last batter he faced to reach base. 
Josh Tomlin, Cleveland Indians starting pitcher in game three, has a 1.98 ERA in his last six starts and will need to keep the ball in the park against the powerful Cubs lineup, because despite scoring six runs in the first game, the offense has struggled to score runs. 
As for offensive keys to the game, for the Cubs it's simple – keep doing what they've done all year – battle at the plate. The team saw 165 pitches in its shutout loss in game one and 197 pitches in game two. If they battle all night, they should prevail victorious.
For the Cleveland Indians, they need to get guys on, get them over and get them in. In other words, they need to play small ball and manufacture some runs. The team has showcased the good speed throughout the lineup in game one, and they will need to utilize it again if they want to defeat the league ERA leader in Hendricks. 
Historically, game three winners are in a good position to win the series, having won 70 percent of the time in the postseason, 62-27, according to ESPN stats and information. 
However, the last two game three World Series winners have gone on to lose series. Hopefully this does not stay true.J
Prediction: Cubs win 3-2