Annala saves shots, savors time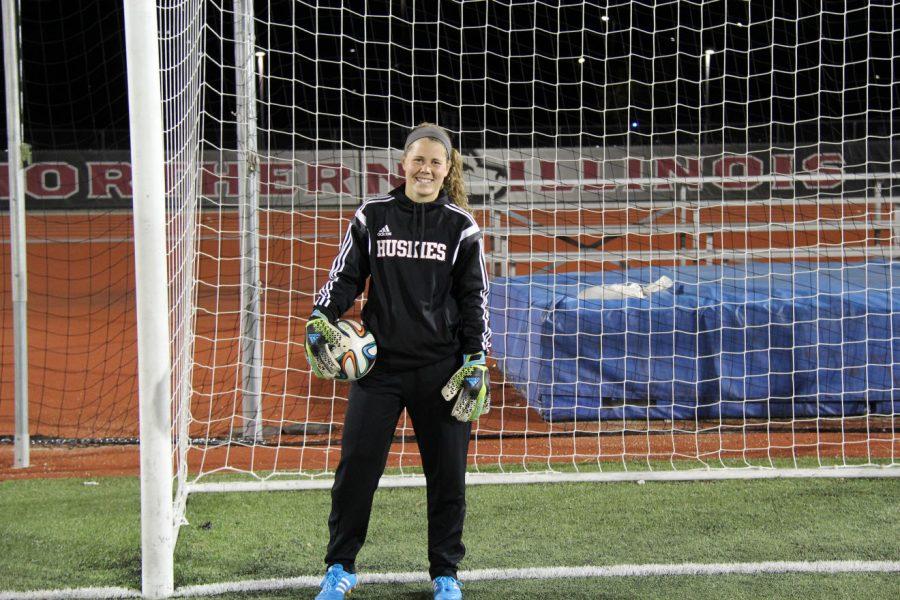 Steve Shonder
October 6, 2014
Women's soccer's defense is locking down on opponents, and a big reason for that is the play of freshman goalkeeper Amy Annala.
Annala is drawing accolades for her recent level of play, having been named the MAC Defensive Player of the Week for her 19 saves Sept. 26-28. She is tied for the MAC lead in saves and has been a huge contributor to the Huskies' historic start to conference play.
MAC teams have peppered the defense with shots, including 30 shots on goal, but Annala has proven to be an excellent last line of defense, making 27 saves in the last four games. She has 71 saves overall, which is the fifth-most by a freshman goalkeeper in the country.
Annala and the defense were exposed Sept. 19 against Green Bay, which scored three times on corner kicks. Since then, there's been an added emphasis on defending free kicks that's helped put the defense over the top.
"I think it really was the Green Bay game that made us realize this is something we need to work on," Annala said. "It can't happen again. We put an extra emphasis on it in practice. Everything we do, we make sure that's in the back of our minds. Just knowing that can happen I think helps us in the long run, knowing we've got to stay with our marks and lock down on the free kicks."
Being mentally ready is one thing, but assistant coach Connor McKee said Annala and the back line are well on their way to mastering the skills they need to thrive with pressure in the box, and it has shown in games.
"In training that's basically all we've been doing since Green Bay," McKee said. "We have tackle dummies out there and [volunteer assistant coach Angela Righeimer] is out there pulling on [Annala], basically just creating a tougher environment than you'd see in a game, and she's responded well. She picks things up immediately. She got that right away, and she knew that was something to improve upon. She definitely has done that. I think teams realize they can't just send it in and get a goal for free. They've got to earn any goal they're going to get in the box."
Annala credits the Huskies' strong back line for her success with their constant harassment of opposing attacks. The defense has been dominant since MAC play began, only allowing 0.75 goals per game in the four-game stretch.
"Personally, I'm keeping focused in the games, just staying in it the whole 90 minutes," Annala said. "But, it's really a team effort the whole time. Just keeping in touch with the back line, making sure everybody's on the same page, that's what's really helping us out."
After winning the MAC Defensive Player of the Week Award, Annala held her own Friday against Kent State, which featured a shot-heavy attacking style, and shut out Ohio Sunday. She said she was pleased with the award, but it doesn't matter to her upcoming opponents.
"I was definitely surprised," Annala said. "It's not something I was expecting, but I'm happy it happened. It's a new week now and you [have to] keep looking forward."
The Huskies played three overtime games in a row to start conference play, which put Annala in high-pressure situations. Against Kent State, she made a pair of big saves at the end of the first overtime before making an even bigger save on a shot from deep inside the Huskies' box.
"You just can't let the ball get in the back of the net," Annala said. "One shot, when its golden goal, [I] can't let it get in the back of the net. I'm [going to] do anything I can to stop it."
Righeimer, a former goalkeeper for Buffalo, said Annala's performance is exceeding expectations.
"I think she's adjusted incredibly well," Righeimer said. "I can remember my freshman year being a goalkeeper, and it's very hard to come in as a freshman and take on that role. And she's taken it on so well. It is a physical game and … for a freshman, she doesn't play like a freshman. She plays like a Div. I college goalkeeper. She's good."