Rifkin re-indicted on sexual assault charges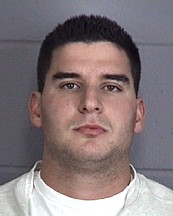 Andrew Rifkin, a former NIU police officer, has been re-indicted on criminal sexual assault charges.
Rifkin was originally charged in October 2011. He was accused of sexually assaulting a female student with whom he had a relationship. The charges were dropped in November 2012 after Judge Robbin Stuckert found that NIU police had withheld evidence that would have supported Rifkin's defense.
According to a motion filed by the defense, the NIU police failed to provide the DeKalb County State's Attorney's Office with two witness statements. According to the motion, the witness statements come from two people who claim the actions between Rifkin and the alleged victim were consensual.
According to a statement from the office of Richard Schmack, DeKalb County state's attorney, "The victim was never given notice of the impending dismissal and became aware of the dismissal only through media reports. These charges have been reinstated following full consultation with her, and with her complete support."
If convicted, Rifkin would face between four and 15 years in prison, according to the release.
"It will always be the policy of my office to consult with the victims of violent crime before any dispositions are reached, especially one so drastic as a dismissal," Schmack said in the statement.
Rifkin's attorney, Bruce Brandwein, could not be reached for comment.