Dortch has desire to help NIU become winner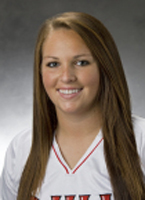 Megan Dortch's father never wanted her to play just one sport when she was growing up.
Dortch played soccer before she started playing softball at age 8, and she's been playing ever since.
But she didn't start out as a pitcher.
"I started off as a catcher," Dortch said. "And when we were playing rec ball, I'd always get so irritated that the pitchers couldn't hit their spots."
So she decided to become a pitcher.
Dortch was a four-year letter varsity winner at Bishop Manogue High School in Nevada. She was named first team all-state her sophomore, junior and senior years and was the team MVP during those seasons.
Dortch also pitched for the California Breeze travel team to get some recognition from other colleges. Dortch never wanted to commit to a big name school, but she decided to join the Huskies' softball family because she loved the campus and coaches.
"We talked about what she would be able to do at Northern and kind of the legacy she could leave for herself and what kind of impact she could have on a mid-major program," said NIU coach Lindsay Chouinard. "And that was something that was really important to her, and so it was a good match."
When being recruited by Chouinard, Dortch always told her that she didn't want to be a part of a big name school. This was something that Dortch and Chouinard had in common. Both of them want to surprise everyone by being a great team.
"I wanted to make the difference," Dortch said. "I wanted to help build a team. I wanted to be the team that shocked everyone. I want to be that team that was the first team to win the women's college world series, and that's exactly how she was."
So far, Dortch is off to a good start to her NIU career.
She leads the team with five wins and has a team low 2.38 ERA in 50 innings pitched.
Chouinard said that Dortch can be the kind of team leader the Huskies can have heading forward.
"Obviously, leadership on the mound is extremely important," Chouinard said. "Megan is extremely mature and knows what she wants, and that's evident in the way she plays the game."