McCullough's attorney argues against use of testimony from other cases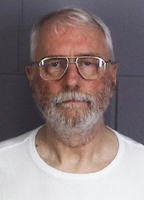 The attorney representing Jack Daniel McCullough, 71, requested at a hearing Thursday that certain testimonies from other crimes McCullough allegedly committed not be used as evidence for the 1960s rape charge.
McCullough was charged on Sept. 30 with one count of rape and four counts of indecent liberties with a child. Court documents allege McCullough sexually abused a Sycamore girl in the early 1960s. McCullough is also charged with the 1957 kidnapping and murder of Maria Ridulph.
Regina Harris, DeKalb County Public Defender, said certain testimonies acquired from investigations in other crimes McCullough allegedly committed could lead to "mini-trials" when prosecuting him for the rape charge. Since McCullough hasn't been sentenced for those crimes, using their testimonies could damage his character, Harris said.
The state decided to prosecute McCullough for the rape charge first.
Circuit Judge Robbin Stuckert set McCullough's continuing hearing date for Feb. 14.