Board of Trustees approves tuition increase for FY22
DeKALB  – The Board of Trustees unanimously approved a 1.5% tuition increase after holding tuition flat for five years as the university faces a $26.5 million deficit. 
The 1.5% base tuition increase represents a $5.23 increase in the per credit hour rate and a $70.99 increase in the full-time rate for undergraduate students. For graduate students, there will be a $5.36 increase per credit hour and a $64.32 increase in the 12 or more credit hours.

There will be a 0.79% increase for law students representing a $5.36 increase per credit hour and a $64.32 increase in the maximum rate.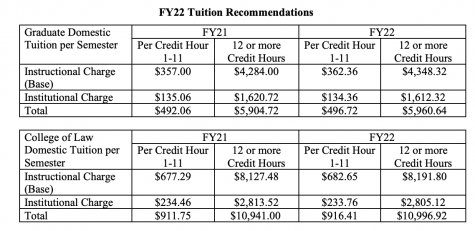 The rise in tuition costs only applies to incoming or re-entering students and non-degree seeking students. In alignment with the Illinois' Truth-in-Tuition law, entering undergraduate students are guaranteed the same base tuition rate for four continuous years.
After nine continuous semesters of enrollment, the guaranteed undergraduate tuition rate adjusts to the tuition rate paid by students who entered the university one fiscal year after the date of original entry for an additional three semesters.
The increase was made due to a need to provide additional services to students, including enhanced academic advising and financial counseling, to enable students to be retained and graduate, according to the Feb. 18 Board of Trustees agenda. 
"This isn't something we just saw today," Trustee Eric Wasowicz said. "This is something we've been looking at for quite a while, and we've given this an enormous amount of thought individually as we've looked at this and now coming together as a board to vote on it today." 
Board chairperson Dennis Barsema said the decision to raise tuition prices has been a topic of conversation within the administration for a while and that the increase is necessary to improve student services. 
"I believe that the university arrived at a very good conclusion both for the benefit of the university and, more importantly, the benefit of students and families in terms of having as small of an increase as we possibly can," Barsema said. 
In December, the Board also unanimously approved a 2% increase for room and board fees, approximately $100, per semester, and a decrease of 70 cents per credit hour in student fees starting Fall 2021. 
Budget update
The university faces a $26.5 million deficit with projected revenues of $362.7 million and projected expenditures of $389.2 million, Chief Financial Officer Sarah Chinniah said. 
In November, the university predicted a $37.7 million deficit and ended FY20 in June with a $15.3 million deficit due to COVID-19. 
Through the second quarter of FY21, the university received $121.4 million more revenue than was spent, and expenses through the second quarter of FY21 are $18 million below budget, according to the agenda. 
"We're now at the point where there's light at the end of the tunnel," NIU President Lisa Freeman said. "The next year will be really a transition back into multi-year planning, and we will come out of and emerge from the COVID environment."