How student-athletes found their voice following on-campus racism
NIU Police reported to the Center for Black Studies near midnight Sept. 16 after a member of NIU security reported graffiti on the front of the building. On a beam at the building's entrance, the n-word was sprawled in silver spray-paint, according to NIU Police documentation.
The next day, during an NIU-hosted Zoom call to discuss the incident, several joined the call and used racist language or hate codes that further upset the NIU community.
In the coming days and weeks to follow, NIU's student athletes would not only stand their ground but raise their voice on the issue of racial inequality. 
They marched in support of the Center for Black Studies. They helped the community come together at the Oct. 1 Art and Soul event where "Black Lives Matter" was painted into the pavement on Castle Drive, and on Oct. 10, they collectively rallied outside of Huskie Stadium to show their commitment as students to change.
And nobody flinched when their opportunity arose.
Why shocked wasn't universal
A look around the "Hateful Things" exhibit at Pick Museum of Anthropology at Cole Hall was a look into what hate against African-Americans looked like from a time not so long ago.
Being displayed at a museum as 'history' didn't create the feeling of a room filled with bygone-era relics when it's just a two-minute walk and six months removed from proof the thoughts still exist.
When NIU President Lisa Freeman announced the initial incident of graffiti in a university-wide e-mail, it was the first time Athletic Director Sean Frazier said he'd ever even imagined something like that happening in DeKalb since he arrived in 2013.
"I had not seen that in our community before," Frazier said. "I've been here eight years and I was really shocked that someone would have done that. That was my initial reaction. The other part of it was wanting to know why. Why did someone go out of their way to be a part of something so negative?"
Anne Edwards, director of the Center for Black Studies, came to NIU a year prior to Frazier as a career counselor. She said she never expected hate speech to work its way directly to the Center.
"I was shocked that it happened to the Center," Edwards said. "Where the shock came in was that we, and by we I mean the students and the staff, we always viewed it as a safe place. There was never really a thought that it could not be."
The reaction from Edwards and Frazier is a far contrast from Kam Smith, redshirt senior outfielder on the baseball team.
"To be honest, [I'm] not surprised," Smith said. "That's just the world we live in. I don't just think everybody is a terrible person, but there are a small group of people who feel they can say and do whatever they want."
Smith's hometown of Colonial Beach, Virginia, is a blip near the Potomac River with a population of around 3,000 people. He joked about it being one stoplight and a McDonald's. In reality, it's filled with a lot of kids Smith thinks didn't get the opportunities he had.
"It's kind of in the country, not a lot of resources," Smith said. "There are some bad areas there. There's kids with a lot of potential, honestly a lot more athleticism than me, but just never had guidance through things."
He attended high school there for three years before going to the Steward School on the outskirts of Richmond, Virginia. A half-hour drive from the school into the city is Monument Avenue, where Confederate President Jefferson Davis and Confederate Generals Robert E. Lee, Stonewall Jackson and J.E.B. Stuart were memorialized in what once was the Confederacy capital.
"Being from Virginia, I'm used to this," Smith said. "I wouldn't say it was another day, it was just something I wasn't surprised by. I've tried to explain to my teammates what it's like to live in Virginia. Sometimes it's a shock to them, but it's real life and reality."
The conversations Smith has had with teammates wasn't the product of just the vandalism of the Center for Black Studies. Conversation started during the summer when the racial climate in America reached its boiling point.
A striking "lack of humanity"
On May 25 in Minneapolis, Minnesota, George Floyd was killed by Minneapolis Police Department officer Derek Chauvin while being arrested for allegedly using a counterfeit $20 bill. Onlookers recorded Chauvin putting his knee on Floyd's back and neck for over nine minutes.
The scene was broadcast across the nation and social media, sparking protests in the days and weeks following that reached beyond the bounds of COVID-19 or borders. In DeKalb, protesters gathered across town to protest police brutality and racism throughout the summer. 
Protests and unrest reemerged near the summer's end when cameras captured Jacob Blake being shot seven times by Officer Rusten Sheskey in Kenosha, Wisconsin, during an Aug. 23 traffic stop. Blake was paralyzed from the waist down.
Smith said he was hurt, but when his teammates came to him with questions, he was good to send along some texts in hopes of sparking conversation and thought.
"It hurt me for the people involved, George Floyd, Jacob Blake and others around this country," Smith said. "At the same time, I think it was the first time people began to be real with themselves about the situation of race. I had never [minded] talking about race and that's one of the things that was a light out of the situation. I had teammates, coaches, professors reach out to me that wanted to know what it was like to live as an African-American, as a Black male. Telling them the stories and things that have happened throughout my life, they were shocked by it."
Edwards took on a new role, becoming the permanent director of the Center in July.
The change in roles didn't affect her, saying her version of 'acting' director was probably different from most. It was the events of the summer that she said made her take inventory of herself.
"What made this summer different, I think, was we were in the middle of a pandemic," Edwards said. "Even in the middle of the pandemic, the lack of humanity was striking. I think that as a director the first thing I had to do was acknowledge my own feelings and check in with myself and the staff of the Center. This is a labor of love, but a labor nonetheless."
Edwards' strength as director was tested in September, coming literally to the Center's doorstep.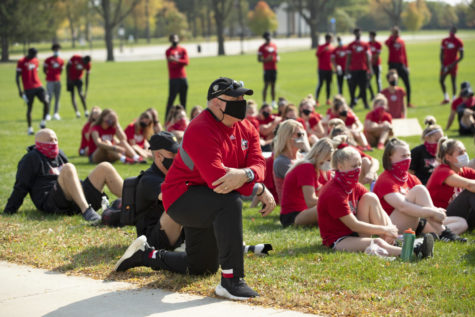 'This happened to them'
Frazier said soon athletes from across NIU sports came to coaches and Athletic Department staff. The athletes wanted to protest in defense of not just the Center, but in defense of one another.
"They came to their coaches and came to our head of Diversity and Inclusion for the Student Athlete Body Committee Courtney Vincent," Frazier said. "They said, 'We want to do something. We want to show people that this isn't okay and tell people that.' This happened to them. It's not like this was something that just happened to black students or the Center, it was happening to all of us. It was an ownership of us saying, 'This will not be tolerated.'"
Each athlete and program took their own approach to addressing the incident. NIU softball wrote in a tweet posted Sept. 27 that they are "UNITED IN SOLIDARITY." NIU women's soccer was blunt with their statement in a Sept. 19 tweet.

"

They said, 'We want to do something. We want to show people that this isn't okay and tell people that.' This happened to them. It's not like this was something that just happened to black students or the Center, it was happening to all of us."

— Sean Frazier, NIU Athletic Director
On Sept. 23, several athletes were among the estimated 200 that marched across campus in support of the Center for Black Studies. Two days later, student-athletes held a rally outside the Center for Black Studies to condemn the racist graffiti incident. 
On Oct. 1, the NIU and DeKalb community came 100 people strong to paint 'Black Lives Matter' in red on Castle Avenue. NIU women's basketball team was among those assisting.
Ten days after that, Frazier and the athletes he represented marched on campus and rallied at Huskie Stadium to allow student-athletes to raise their points on social injustice. 
Edwards understands the power protests can hold on NIU's campus. The very building she operates over is a result of one. The way that came about was recently documented in NIU's 125 Years celebration.
On April 5, 1968, students and staff at NIU gathered at the Carl Sandburg Auditorium for a memorial service for Martin Luther King Jr. The leader of the civil rights movement of the '60s was assassinated the day prior at the Lorraine Hotel in Memphis, Tennessee.
In the middle of the service, Black students filed outside and raised a black flag on the flagpole at the Holmes Student Center. The next week, 200 Black students staged a sit-in protest at Lowden Hall in hopes of requesting a sit-down with then-NIU President Rhoten Smith. Among the demands was a Black Studies program and a dedicated building on campus for Black students to "retreat from the awesome whiteness of the rest of the university" as an alumni described to NIU for the 125 Years piece.
"We wanted not just to be here; we wanted to thrive here," alum Glenda Blakemore said in NIU's 125 Years piece on the history of the Center. "We wanted the University to pay attention to us and want us to graduate. We wanted to graduate because of, not in spite of, this University." 
In 1971, the first Center for Black Studies was built on campus at 225 Normal Rd. In 1993, the modern Center was constructed at 621 West Lincoln Highway.
"Black students at NIU have a history of speaking up," Edwards said. "A history of speaking up against things that are happening or talking about their experience on campus. Several alumni that I have spoken to over the years have really given me historical context to the different things they did when they were here."
The Huskie athletes may have been moved to action by professional athletes and even collegiate athletes who spoke out against the violent deaths of Floyd, Breonna Taylor and others. 
When video of Blake's arrest came to light, the Milwaukee Bucks protested by walking out on an Aug. 27 NBA playoff game against the Orlando Magic. The Detroit Lions cancelled an Aug. 25 practice to have a team discussion on race with players and coaches later condemning the actions of Kenosha Police. 
Frazier, the former University of Alabama conference football champion, understands the psyche of being a student-athlete, but says he doesn't recall the voice of student-athletes being as powerful in his time. To him, the professional athletes that college students look up to have empowered them to use their position to voice opinion.
"I think people have woken up," Frazier said. "In my era, there weren't many protests that I was involved with in terms of social justice and social issues. I think now with them starting to find their voice and see professional athletes or college athletes use their voice, students are starting to realize they have a voice."
The history of American student-athletes protesting incidents at their respective school or sport isn't one that makes the venture all-welcoming. 
In 1968, eight University of Texas-El Paso track and field members were cut and stripped of their scholarships by the University for boycotting an upcoming meet with Brigham Young University because of BYU's racist policies and teachings.
A year later, 14 Black football players at the University of Wyoming were cut after they wanted to wear black armbands for an upcoming game against BYU for the same reasons.
But that was just what the University could do. The images scattered across phone and TV screens all summer showed how protests could become violent and even deadly in a matter of moments. According to the Armed Conflict Location and Event Data, nine people in the U.S. died while participating in protests associated with 'Black Lives Matter.' 
Smith said the fear of consequence or judgement never crossed his mind. The message he wanted to help deliver was too big for him to falter now.
"As far as the community, I would never say there was fear," Smith said. "There were a few rallies and protests where people said stuff to us, pointed at us, threatened us. Not really doing anything, just, 'You get off the street' stuff. I would never say there was fear. Me being a Black person, I was always aware of the situation. I knew someone could take matters into their own hands and decide they were going to use a gun, use force, use more than words. I had to have a conversation with myself of, 'Is this really something I want to go out there for?' Ultimately, it's bigger than me, it's for the people who come after me."
What actions speak loudest
When Smith talks about his purpose in DeKalb, he says it with the conviction that makes it sound like he set it in stone.
"I'm here to make an impact on people's lives and win baseball games," Smith said.
Smith, between balancing being an outfielder for the Huskies and an undergraduate Middle Level Teaching and Learning major, is still managing both. Smith has started in all 30 of his team's games and leads the group in home runs and runs batted in.
Just as the Huskies rely on his bat on the diamond, his professors have sought his guidance in how they can better the education of Back students.
On Jan. 7, Smith spoke at a town hall held by the College of Education and talked about how he personally felt about the work his professors put forth. Now, the questions for Smith weren't just coming from teammates he was peers with, they were coming from everybody.
"I was asked to write a speech and deliver it," Smith said. "I was asked by President Freeman and other people in Athletics, 'How can we help?' My professors reached out and said, 'Kam I want to know. Kam I need to know.' That, to me, is action."
Action is the key word for Smith. Smith said he doesn't care about sentiment, he wants things put into motion.
"The whole thing for me was I don't really care what you say," Smith said. "You can say, 'we're going to do better.' That's great, but show me. Do something different."
In the winter, Frazier took on a new role as the co-chair of the LEAD1 Group on Diversity, Equity and Inclusion with China Jude, University of Wyoming senior athletic director. 
Frazier, who participated alongside his athletes in the Oct. 10 march, has taken action. In an Oct. 30 edition of Frazier's Corner on the NIU Athletics website, Frazier revealed three main changes he's made within the program in hopes of helping advocate for student issues.
The Athletic Department now offers Athletic Social Justice Education to help provide student-athletes a history of racial advocacy and race relations in the US. Frazier told the Northern Star that it's incumbent on leaders like him to act on 
"It's important and incumbent on leaders like myself that run institutions to be aware," Frazier said. "(We need) to give a vehicle for young people to voice themselves within the rights and rules so we don't do things that are unpeaceful or break any laws."
Professional counselors were made available to athletes for mental health check-ins and staff-wide town halls have been held to discuss diversity and inclusion.
The investigation by NIU Police ultimately didn't make any leeway in their investigation that was suspended Feb. 10. Edwards said at the time that closure was needed. Now, she says the response from the graffiti made her proud of the Center and University.
"I think having students protesting here on a regular and consistent basis to show support was great," Edwards said. "I think of how proud I am of these students to be able to come together, plan a vision and follow through with it. The students have been great. Black student leaders have been working on this and keeping people engaged and just really pushing through to make sure the things they're asking for are to see them to come to fruition."
At the institutional level, NIU recently added a page on their web page dedicated to racial and social justice, equality and inclusion. The page currently has a brief message on the University mission and a list of other web resources.
"NIU is committed to doing the hard work necessary to address systemic inequities and foster a more inclusive campus culture, knowing that achieving some goals and outcomes will require sustained, long-term effort, while other actions can lead to rapid, positive change," the page reads.
The key change Smith wants to see is in education with more acknowledgement of Black contributions to society and culture. He's not waiting for others to act, he's making changes himself.
"Number one is curriculum," Smith said. "Right now, I'm a history teacher. I've been allowed to revamp the curriculum to teach about history and how Black people have contributed to history. I'm not saying to cut up the history we already know. It is American history, however, there were certain things African-Americans did to contribute to history."
The summer and fall of 2020 proved to be a huge challenge for students and faculty at NIU, be it dealing with COVID-19 or addressing racial injustice. Smith said seeing how his fellow student-athletes came to the support of Black students and each other moved him in a way he hadn't been moved before since coming to DeKalb from Virginia.
"The way the athletic community came together," Smith said. "It really opened my eyes, got me thinking that I would do anything for anyone on my team and any NIU athlete. Seeing these people at these rallies and seeing them protesting, to be honest, it was an emotional feeling. You can think someone has the best interest in you. To see it, is a whole different feeling."