Women's basketball adds Paulina Castro to coaching staff
DeKALB — The clock on former guard Paulina Castro's tenure with NIU's women's basketball program will continue to run as she returns as the team's director of basketball operations.
Women's basketball head coach Lisa Carlsen announced Castro's return as an addition to the coaching staff in an NIU Athletics press release Tuesday. Castro fills the position previously held by Ally Lehman, another former NIU player-turned-coach.
"I could not be more thrilled to have Paulina join our staff," Carlsen said. "She has exemplified all that is great about being a Huskie. Her time here as a player has made all of us better and moved our program forward in so many ways. She was a great player and an exceptional leader. I can't wait to watch her continue to use her passion for the game and grow into an extraordinary young professional in this business."
"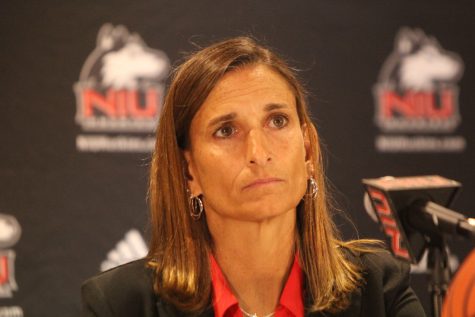 She has exemplified all that is great about being a Huskie.
— Head coach Lisa Carlsen
The 2021-22 season was Castro's final season as a player. The then-redshirt senior started one game out of the 14 games she played in. Castro went 13-for-35 on field goal shooting and recorded 39 points in her final season.
Castro saw game action in five of her six seasons of athletic eligibility. She spent her redshirt freshman campaign receiving treatment for Hodgkin's Lymphoma in 2017-18. Castro made 32 starts in 95 games played, recording 1,411 minutes on the court. She made 116 field goals on 332 attempts to have 34.9% field goal shooting. The Elgin native tallied 339 points throughout her career.
"I'm extremely grateful and excited for this new opportunity," Castro said. "I am eager to get to work, learn and serve the team in new ways. My position on the team has shifted but my love for the program and the desire to advance it forward continues to grow. During my time as a student-athlete, so many people poured into my experience and I hope to do the same."
Castro earned a bachelor's degree in kinesiology from NIU in December 2020. She graduated with a master's degree in sport management on May 13.