Students call for reform of Electoral College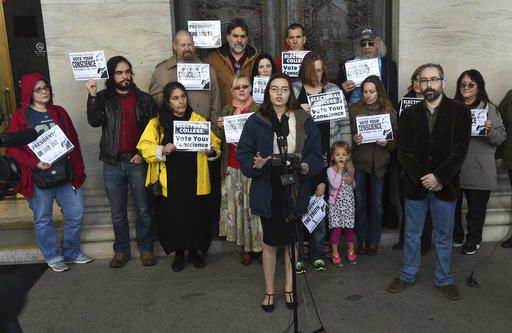 DeKALB | Some students are calling for the reformation of the Electoral College following the results of the presidential election.
"[The Electoral College] doesn't make sense in terms of nationalism," said junior Spanish major Brandon Blade. "It makes a state patriotic. I feel like it pertains to the state's view, not the nation's best interest."
The Electoral College is an indirect voting system of 538 state electors that determines who the president will be. The decision for this year's election will be finalized Dec. 19 when electors cast their votes. At a bare minimum, all states have three electoral votes: two members of Senate and one district.
Each state is broken up into districts. Districts are proportional to a state's population, thus a larger population equates to more electors. Whichever presidential candidate wins the majority of districts wins the state's electoral votes.
Hillary Clinton, former Democratic presidential nominee, is leading the country's popular vote by two million but lost the Electoral College 306-232, according to Politico.com.
The outcome has prompted some Clinton supporters to create a movement focused on reforming or removing the Electoral College.
"I've never liked [the Electoral College] because I've always thought one voice, one vote," said senior journalism major Dylan Donzelli. "I see the point for the states with smaller populations."
California Senator Barbara Boxer has submitted a bill to abolish the Electoral College. In the last 200 years, there have been more than 700 failed Congressional proposals to reform the system, according to Archives.gov.
"The Electoral College is not going anywhere [because] it's so difficult to actually amend the Constitution," said political science professor Matthew Streb.
Streb said at least two-thirds of the states or two-thirds of Congress must agree on an amendment to change the Constitution, so he believes an amendment is unlikely.
Some citizen petitions that are circulating focus on doing away with the Electoral College entirely, while others are calling on Trump to rescind recent administration appointments.
However, some petitions are directed towards state's electors.
There are two camps of electors: those bound by state law who must vote in accordance with the state's popular vote and those whose votes are bound per their pledge to their political party.
One petition, "Electoral College: Make Hillary Clinton President on December 19," has more than four million signatures and is urging state's electors—who are without laws on faithless electors—to cast their vote for Clinton. It is one of the largest petitions on Change.org.
Students have different views on the post-election developments and the movement to end the Electoral College.
"I think [petitions are] an attempt at a peaceful revolution," Mike Emmer, senior political science major, said. "I don't think that's possible."