MAP grant bill passes House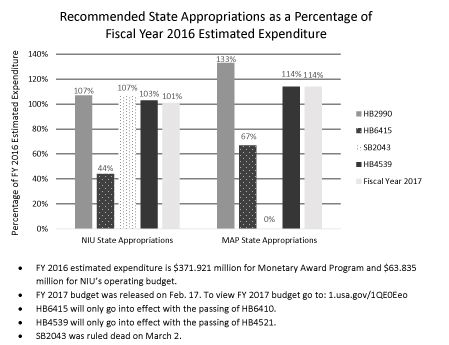 An NIU-supported partisan bill that would fully fund the Monetary Award Program and about 90 percent of NIU's expected state appropriations, has made its way through the Illinois House of Representatives.
The bill, House Bill 2990, includes funding for all higher education including community colleges and includes other things such as funding for the Department of Public Health and Department of Transportation.
The bill passed the House of Representatives with a 70-43-1 vote Thursday. There are 71 Democrats and 47 Republicans in the House.
The movement of this bill follows the recent attempt to override Gov. Bruce Rauner's veto of Senate Bill 2043, which would have funded MAP and community colleges but not 4-year universities. The veto was overridden in the Illinois Senate but was two votes shy in the House.
"[NIU] did in fact support that because we thought MAP was important for our students… and we felt that funding our community colleges was good," said NIU President Doug Baker at a University Council meeting Wednesday. "Now, tactically, we can say we need an operating budget."
Despite supporting the vetoed bill, Baker said it would be like giving NIU a saddle but without a horse, with MAP funding being the saddle and state appropriations for the operating budget being the horse. HB 2990 would give both the MAP funding and operating budget funds.
House Bill 6415 and 4539
Another bill that would fund higher education was also introduced by the House on Wednesday. House Bill 6415 would fund $42.6 million of NIU's recommended appropriation of $63.8 million for Fiscal Year 2016. It would also fund about 40 percent of MAP funding.
"This is an example of piece-meal budgeting, where you are looking at different parts of the budget without ever putting them together and matching it up with revenue," said Rep. Bob Pritchard (R-Hinckley). "That is the problem with this bill and most of the bills that have been introduced."
This bill would only take effect with the passing of the 40-word Higher Education Emergency Relief Act.
"The [Higher Education] Emergency Relief Act is what we call a shell bill," Pritchard said. "It does absolutely nothing and it will be amended with language that looks at particular appropriations. There are dozens of shell bills that have been filed."
Pritchard said bills like HB 6415 and HB 2990 do not have a revenue source because the current budget has Illinois spending more than they generate.
Pritchard is a sponsor on a bill, House Bill 4539, which would fully fund MAP and appropriate about $73 million to NIU. This bill would be passed alongside another bill which would give Rauner power to transfer balances between special funds in the state treasury and the General Revenue Fund.