City Nativ creators prepare for fall fashion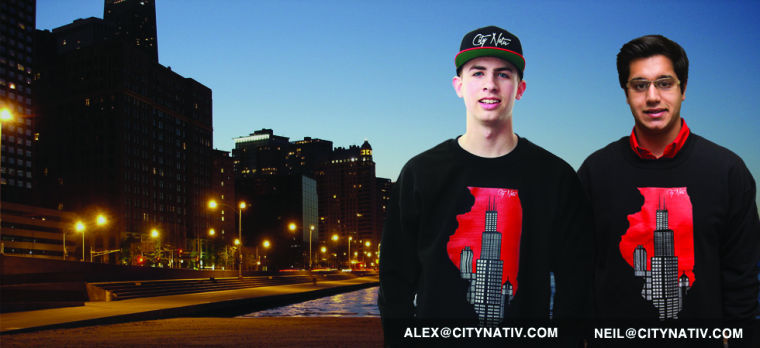 Aymie Telinski
September 16, 2013
Local creators of fashion brand City Nativ are getting set for the fall season with new styles.
The clothing line is a small business Alex Bauer and Neil Vohra co-own, design and market. The company is in the process of creating new clothes like hoodies for the fall.
Northern Star: How did you two meet? How long have you known each other?
Neil Vohra: Alex and I were neighbors when I was only 5 and Alex 3. Alex; his brother, Trevor; and I were great friends and essentially grew up together on the playground, in school, the neighborhood and the community. We were neighbors for about five years and stayed in touch after that. We both also went to Sycamore High School.
After that, I went off to college at UIUC and begin studying finance. Upon graduation, I talked to Alex about a few ideas I had for City Nativ, including incorporation and large-scale business expansion. Next thing we knew, we were business partners and experiencing tremendous growth together.
We truly believe in City Nativ as the message of the brand is something we experienced ourselves. It has been so exciting for us to work together and share success in the same place that we used to eat peanut butter and jelly sandwiches more than 15 years ago.
NS: When did you decide to start a clothing line?
Alex Bauer: City Nativ was started toward the end of last summer. I had a few people encourage me to apply my creative and artistic talents in the form of a new project. Due to my general interest in fashion trends, I realized that a clothing line would be the perfect project for me. During the last week of August I launched the clothing line and have been at it ever since.
NS: Why City Nativ?
AB: Once I realized I wanted to start a clothing company, the first, and perhaps most fun, thing I needed to do was come up with a name. This was not a menial task.
An important element in creating a name is the potential longevity of it. While I had several ideas, I eliminated most by the means of looking at the trademark, copyright and other offices as well as domain names already captured. I had originally chosen "City Native," but I quickly dropped the "e" to create a more unique, recognizable brand. This also assisted us in becoming more visible on search engines, and helps protect us legally from the broad use of the phrase "city native."
NS: Are there jobs Alex focuses on and jobs that Neil focus on or do you guys split the work?
NV: I think much of our success is rooted in the makeup of our company. For a young startup, it is crucial to put in the hours and get the work done yourself, rather than outsourcing tasks and processes. Alex is so incredibly talented in the creative and marketing sense, and I simply am not. He controls much of what you guys see, whether it's the pictures, social media, the website, among other things. I, on the other hand, work more on the business end of things. Things like financial issues, corporate structure, new areas and avenues of growth, new deals, etc. While we each have our own clear and defined roles in the company, we certainly love working together on everything and helping improve the experience of our consumers in any way we can. Social media has played a large role in our success and we love interacting with all of our followers on Facebook, Twitter and Instagram.
NS: In what stores beside the Village Commons Bookstore are you available for purchase?
AB: We are also featured at Small Town Skate Shop, located in downtown DeKalb, as well as Uncovet, a Santa Monica-based retailer.
NS: Do you have any other shirts for other schools?
AB: We currently don't make shirts for any particular school, but rather use our trademarked design adjusting the colors for each school. However, that is something we may look into for the future, so keep an eye out.
NS: Are you guys planning on creating more sports clothes like you did before the Chicago Blackhawks entered the playoffs?
AB: The mission of City Nativ upon creation was to provide an alternate avenue for people to support their city rather than wearing the typical basketball or football jersey. I wanted a way for consumers to support their city without a sports affiliation. That being said, the Blackhawk design was based off of a "Nativ" American and it just worked really well with the Blackhawks. It certainly served several purposes for us, and Blackhawks fans seemed to love it.
NS: Did any one designer inspire you for the clothing line?
AB: I didn't really have any designers that influenced my work when it came to the clothing line. I did get a lot of inspiration from what lies within the city. I really wanted to feature the different aspects of the city that make Chicago what it is.
NS: Should people be looking for new designs any time soon?
AB: Definitely. I'm always doing sketches and drafts for new designs. We will be releasing some new products a little closer to fall. "Hoodie season" is my favorite time of the year, so we are definitely going to try and come up with some new sweatshirt designs.
NS: Are there any more Facebook giveaways coming up in the future?
NV: We are always thinking of ways to give away free gear. We've been so blessed with all the support that we love giving back to all our fans out there via social media. Within the next few weeks we will be doing a fall giveaway.