Local rapper Point.Blank hits iTunes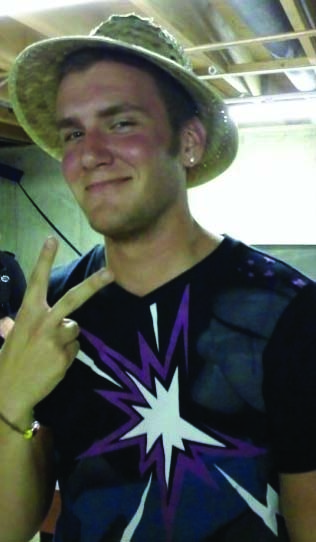 When NIU alumni Patrick Brice was 11 years old, he began listening to Eminem — and suddenly, he had a new dream career.
Brice cites the artist's "confidence and overall 'I don't care what anybody thinks' attitude" as his main inspiration to create his own rap music. Performing under the moniker Point.Blank, he has now successfully achieved his goal and is releasing an album titled Close Range today.
Before he was Point.Blank, Brice was just a kid from Prospect Heights, Ill., with the usual "high school to college to career" goals in life. After earning his Associate's degree at Harper College, Brice found himself attending NIU almost by accident.
"I never really knew where I wanted to go, I just knew I wanted to go somewhere," Brice said. "The one reason I applied to NIU was because my friend from Harper said he would go and be my roommate, but he never ended up coming. But it was still cool, because I met some of my best friends in the dorms."
Once at NIU, Brice made the logical choice for any student obsessed with language and turn of phrase — he became an English major. He also credits his choice to an aversion to anything number-related.
"I absolutely dread math," he said.
Brice graduated in the spring of 2012 and used his newfound time away from school to put the finishing touches on a project: a full-length album.
The way Brice's opportunity to record came about is almost as providential as was the way he landed at NIU. While a student, Brice worked as a delivery boy for the local Pizza Hut. One night, while on a delivery, a customer asked him if he knew anybody who needed a studio space to record music. According to Brice, the customer then said "Wanna take a look? It's in my basement."
Brice immediately said he had other deliveries to make, "not only because it was true, but because I was creeped out."
He left but ended up checking out the customer's Facebook page.
"With some motivation from my roommate I wrote a song, got a beat and recorded my first song with that guy," Brice said.
Over the course of the next nine months, Brice wrote and refined the songs that would end up on Close Range. Lyrics and topics changed often, but, as it is with most art, Brice believes his best works are the songs he wrote in ten minutes out of pure inspiration.
"But the extra time gave me the chance to write more songs and progress my style of rapping," Brice said.
And how, exactly, would he describe that style?
"Different," he said. "My producer told me I sound like no one else, and I hope he is right. I don't want to sound like every other artist on the radio."
While Brice does plan on pursuing a career which utilizes his English degree, he has hopes for his future as Point.Blank as well. Small performances around DeKalb are his next goals, and he has his sights set on gaining recognition from Open Mic performances.
"I do it because I love it," Brice said. "But if I could end up actually making a career out of it, that would be amazing."
Point.Blank's first album is titled Close Range and is available in iTunes today.