Couple turn their birdwatching passion into hot sauce at Aves Spice Company
DeKALB  – NIU alumnus Matthew Nissenbaum and his fiancée, NIU graduate student Wieteke Holthuijzen, have taken their experimentation with hot sauces and transformed it into the Aves Spice Company.
Founded in the fall of 2020 and based in DeKalb, Aves Spice Company is a small online business that makes, ferments, bottles and sells different types of hot sauce, Nissenbaum said. 
Currently, Aves Spice Company sells 5 fl oz bottles of hot sauce on its website for $10.95 and at local farmers markets in the area, Holthuijzen said. Another vendor of these sauces is Jonamac Orchard, 19412 Shabbona Road, Malta, which not only sells their products but also is the site of their production in one of their commercial kitchens.
The sauces vary in flavor with "The Cardinal" being made with cranberries and persimmons, while also using a blend of eight peppers including jalapeno, habanero and ghost. Another sauce is "The Goldfinch," which mixes pumpkin, peaches, corn and apples with habanero and Carolina Reaper peppers. Full descriptions of these products are on their website.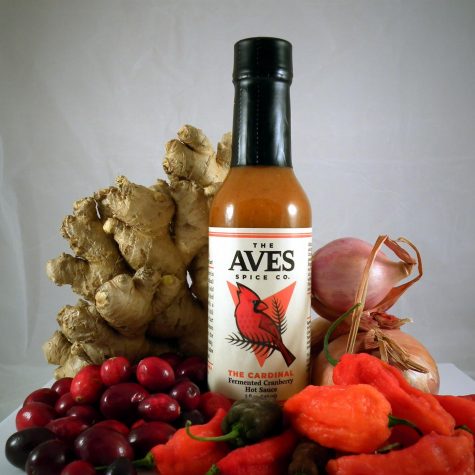 Often these ideas are born in the kitchen where Nissenbaum and Holthuijzen "play around" to create new sauces, Holthuijzen said. The pair have learned more about the craft of hot sauce manufacturing through trial and error. One example was when they figured out pineapple needs to be added much later in the sauce making process so it can maintain its sweetness.
After a day of tinkering with fruits, vegetables and peppers, the sauce is made into a brine and sealed in brewer buckets with air-tight locks, Nissenbaum said. Unlike other sauces, vinegar isn't used to preserve the sauce. Instead, acidic fermentation is used as the brine becomes less spicy. 
This allows Aves Spice Company to use incredibly hot peppers like the Carolina Reaper, recognized as the hottest chilli in the world by the Guinness Book of World Records, because sauces like "The Goldfinch," which contains Reapers, ranks three out of five of Aves' heat rating, according to the Aves Spice Company website.
"Sauces which could blow your head off beforehand become pretty mild," Nissenbaum said. 
However, before the fermentation process begins, Nissenbaum and Holthuijzen must try some of the sauce to make sure no additives need to be included beforehand, resulting in upset stomachs, Holthuijzen said.
Originally, Nissenbaum and Holthuijzen made their first batch of sauce for others three years ago as they became infatuated with the fermentation process and its applications towards making sauces. So, for Christmas, they made jars of hot sauce for friends which tasted like spicy pickle juice, Holthuijzen said. 
They continued to make sauce over the next few years until the COVID-19 pandemic affected the entire country in 2020. Since they both were stuck at home, they decided to make more and more kinds of sauce and were then persuaded by friends and local business owners to form the business, Nissenbaum said.
With a vast amount of public interest in their product, Nissenbaum and Holthuijzen are planning to move forward in expanding their company. As of now, Aves Spice Company can only sell their products independently because the company lacks a commercial license. However, Nissenbaum and Holthuijzen are currently working to get a commercial license by April, Nissenbaum said.
Avid bird-watchers, Nissenbaum and Holthuijzen not only name their sauces after birds but also donate a portion of their profits to organizations that support avian conservation, according to the company's website.
With the company in its infancy, both Nissenbaum and Holthuijzen love what they are doing, which they attribute to their optimism in their company's future.
"There are a lot of people with business ideas that don't do well, and that's because your heart has to be in it," Nissenbaum said. "There are days where I work from 7 a.m. to 7 p.m. and I come home exhausted, but I've never come home irritated or upset because it's a labor of love."