NIU nursing students step up to help with vaccine distribution
DeKALB — NIU nursing students were involved with distributing the COVID-19 vaccine until March 11 at the Convocation Center as part of the DeKalb County Health Department Team.
Students were on a volunteer basis or using this experience as part of their clinical activities, said Mary Gawrys, School of Nursing Instructor.
The nursing students have given people shots in the past since they administer the flu vaccines at NIU during the fall.
Under Gawrys' instruction, students gave out all the COVID-19 vaccines received from the health department. The students gave an average of around 1,000 vaccines a day, Gawrys said.
Cassandra Vanzuiden, senior nursing student, said the process for getting involved with giving out the vaccines was rather quick.
"We got an email, probably a couple, maybe two weeks into the semester, saying that they were wanting people to sign up to be on a list to volunteer," Vanzuiden said. "Then one night I got an email, probably about a week after that, asking if I was available. The next day I went and gave vaccines."
Nursing students are experiencing new opportunities that past students have not gotten. Since the pandemic has limited their clinical responsibilities inside hospitals, the COVID-19 vaccine has allowed for new hands-on experiences.
"We're also going to low-income communities and doing vaccine clinics there, and they were only doing like 30 people at a time maybe, but it's because they don't have the transportation to get to the convocation center and stuff," Vanzuiden said. "They've also been in retirement communities."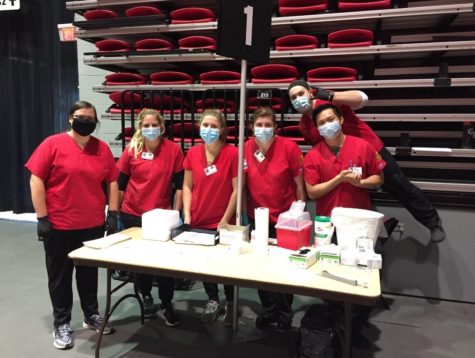 Vanzuiden had never given an intramuscular injection before, so this was a way to gain experience. Recipients of the vaccine were compliant with students giving the shot since it was a learning experience, Vanziden said.
"The students really pulled together, and just came out and gave their time and I think they all learned a lot, not just giving shots which is fun, but how to talk to people, how to calm people down, how to educate people," Gawrys said.
The nursing students also gave vaccines to other students. Vanzuiden was able to give her twin sister a vaccine. It was cool because she's never heard of anyone else that has been able to do that, Vanzuiden said.
The National Guard took over distributing the vaccine at the Convocation Center on March 15.
The nursing program is doing everything it can for the students during a pandemic when lesson plans have had to change, Vanzuiden said.
"It's been really great. I think they're really accommodating to us," Vanzuiden said. "Given the circumstances, they're trying to figure out ways to help us. We've done a lot of like – it's not actually at the hospitals – we've been doing a lot of simulations and I feel like they're trying to prepare us as much as possible."