'Through Every Fiber' exhibit opens at Pick Museum of Anthropology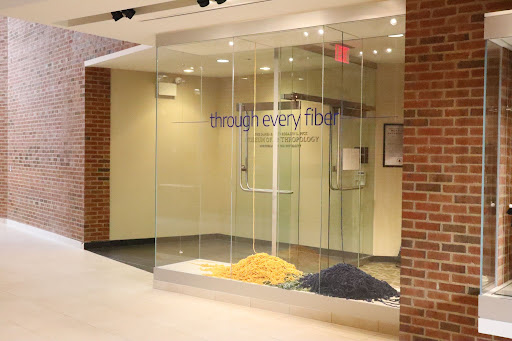 DeKALB — Enter a cultural melting pot and gain an understanding of the textile workings that go into making anything from rugs to clothing with the Pick Museum of Anthropology's "Through Every Fiber" exhibit. 
The free-to-attend exhibit, which runs from Sept. 2 to May 14, 2022, celebrates and explores textile-making practices from communities around the world, according to the event page, while also highlighting their global impact. 
"No matter where you go in the world, everybody has textiles," said Rachelle Wilson, curator for the Pick Museum of Anthropology. "We pulled out nine different textile making practices from different communities around the world to showcase."
Wilson added that the exhibit highlights the techniques for how these fabrics are made, what the processes for developing them look like and for each section, the exhibit also highlights a contemporary artist or maker today. 
The exhibit's textiles were sourced from NIU's textile archive as well as being co-curated by students in the Certificate in Museum Studies program, museum interns and professors who obtained textiles firsthand on expeditions.
"Last year there was a museum exhibition class. I was one of three students who took it, and so, we were tasked with designing one part of the exhibit, one of the textiles," said Emily Corrigan, graduate assistant for the Pick Museum of Anthropology.
Corrigan added that "Through Every Fiber" aims to help museum-goers find a common thread between cultures and their textile development while also highlighting social justice issues.
The emphasis on social justice shines a spotlight on textile makers who are "impacting their communities by addressing social, economic, or environmental issues through their work," according to the event page. 
Textiles often share the story of what's happening in those communities in those moments of time. History speaks with choices such as why individuals chose specific products, applications, colors and fabrics. Those choices can tell us about the crops at the time, animals around them and why certain iconography and imagery are chosen as designs.
A perfect example of this storytelling comes from textiles depicting people wearing face masks and how that illustrated the COVID-19 pandemic. 
"I think when you really understand how these textiles are made, it really draws you into the story behind them," Corrigan said. "Some of the textiles are a hundred years old, and some were made this year…so it really brings it full circle to how textiles are a consistent part of everyone's life."
Corrigan and Wilson hope that museum-goers come away with a greater appreciation for the hard work that goes into developing textiles by hand and for an understanding of the dangers of fast fashion. 
For more information on "Through Every Fiber," visit the exhibit event page.