Thanksgiving craft ideas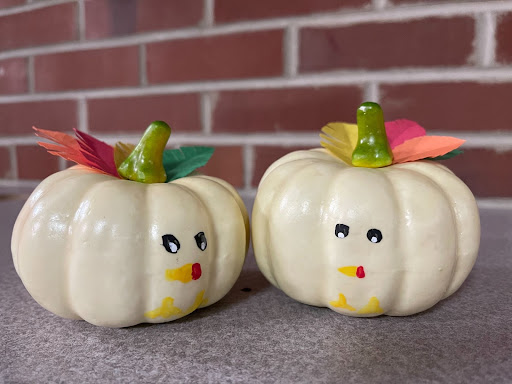 Thanksgiving break is coming up, a time for students to relax and spend time with family before finals season begins. Here are a few crafts to do while waiting for Thanksgiving dinner to be done. 
Mini Turkey Pumpkins
Mini turkey pumpkins take less than 20 minutes to make and are a fun, easy craft.
For this craft, all you need are mini pumpkins, acrylic paint, construction paper, a fine point paint brush, glue and scissors. 
For the paint colors, you need: red, black, yellow and white. For construction paper colors: red, yellow, green and orange. After getting all the materials, it's time to start making pumpkins.
You can find the tutorial here. 
Pumpkin Garland
You can hang this craft on the mantel over the fireplace, and for every pumpkin you put on the garland, you can name a family member and say why you love them.
For the garland, you will need orange and green construction paper, pen, scissors, hole punch, brass fasteners, glue, ribbon and a stapler. 
On the orange pieces of paper, you will write a family member's name and why you love them or why you're grateful for them. You can find the full garland tutorial at  "I Love You" Fall Garland. 
Turkey Treats
Make this sweet treat this Thanksgiving and use them to decorate the dinner table or as gifts for guests. These can also be fun to make with a younger sibling.
All you need for this project is tulle, Reese's Pieces or M&M's, pipe cleaners, googly eyes, glue and small clear elastic bands. Make sure to get the candy and pipe cleaners in fall colors to fulfill the theme. 
Find the full tutorial for the treats here. 
Apple Stamping Pumpkins 
Grab an apple from the kitchen and start stamping some cute pumpkins. You can make multiple ones at once and as many as you wish.
For the apple stamping, the materials you will need are an apple cut in half, orange paint, google eyes and green and brown pipe cleaners. You will also need a white sheet of paper. Printer paper will work fine. 
You can find the tutorial for the apple stamping craft at Apple Stamping Pumpkin Craft. 
Mini Turkey Succulent Planters
Similar to the mini turkey pumpkins, these will be a nice touch to your dorm room for the holiday season and for adding a little greenery to your life. 
The materials needed for this craft are mini terracotta pots, paint brushes, acrylic paint and mini succulent plants. The paint colors are red, yellow, black and white. The succulents can either be real or artificial, depending on your plant-keeping skills.
The full tutorial for this festive craft can be found here. 
Spend the holiday break trying out these crafts with family members or by yourself to get into the holiday spirit.