NIU Interim Chief of Police named a finalist for permanent position
Darren Mitchell named one of three finalists for the open NIU Chief of Police position.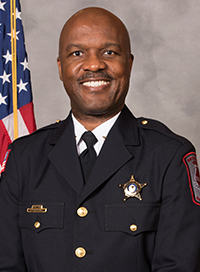 DeKALB — NIU announced the name of the first candidate for the open NIU Chief of Police position Wednesday as Interim Chief of Police Darren Mitchell.
Mitchell is a graduate of NIU and joined the NIU Police Department in January of 2000 as a patrol officer. Mitchell rose through the NIU Police Department ranks from Patrol Sergeant to Lieutenant to Deputy Chief in 2011 before accepting the chief of police position in April on an interim basis. 
Mitchell said he wants to expand upon the current community policing models the department uses to make officers visible and accessible to students, staff and others that encourages interaction. He also hopes to expand crime prevention measures through educational programming, according to Mitchell's application materials. 
Along with his bachelor's degree, Mitchell holds a Master's degree from NIU as well and advanced training recognition from Northwestern University's School of Police Staff and Command.
Mitchell is scheduled to meet with members of the NIU community at 1 p.m. Monday in an open forum in Altgeld 315 and via Zoom. In-person participants will be able to ask questions to Mitchell, but those watching remotely will only be able to observe.
The remaining two candidates will be announced 48 hours prior to their scheduled forum time. 
For an updated list of all candidates as they are released and for information regarding the open forums, click here.