New fire captain sworn in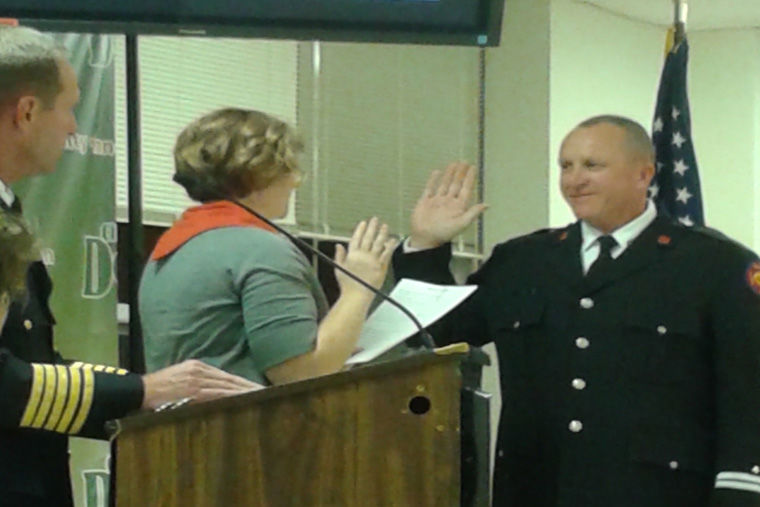 Correction: The Northern Star mistakenly reported Todd Stoffa was promoted to lieutenant in 2011. However, Stoff was promoted to lieutenant in 2012, according to DeKalb Fire Chief Eric Hicks.
DeKALB | Third-generation firefighter Todd Stoffa began his firefighting career at 15-years-old when he first volunteered in his hometown at the Elburn Fire Department, and since then, he has been trying to climb the ranks in the DeKalb Fire Department.
Stoffa, who has been a firefighter for 18 years, was recognized as DeKalb's newest fire captain during a city council meeting 6 p.m. Monday. Stoffa's responsibilities as captain include being an engine company supervisor, meaning he will supervise himself and three other firefighters, and being in charge of the shift when the battalion chief is off.
Stoffa said firefighting runs in his family, as his father and grandfather were also firefighters. Stoffa was promoted to lieutenant in 2012 at the DeKalb Fire Department and said he began to see a different side of firefighting that excited him. Lieutenants report to the captain, who is surpassed by the battalion chief and district chief.
"I spent five years in that role [as lieutenant], and during those years, I really enjoyed the leadership aspect of being an officer," Stoffa said. "I wanted to take a look at the next step. This is the next step in line, moving up to captain."
Much of Stoffa's family was in attendance at the meeting, including his wife and children. He was presented with a special pin by DeKalb Fire Chief Eric Hicks, which his wife placed on his uniform. Stoffa was then sworn in and received the title of captain.
Hicks gave a brief history of Stoffa's career in firefighting, which began when he joined the fire department in 1998 and was promoted to lieutenant in 2012. Stoffa has also served on numerous firefighting committees, led several station projects and serves as team coordinator on the DeKalb Airport Rescue Firefighting Division.
"You can see that Todd is a well trained fire officer" Hicks said. "Tonight, we are here to celebrate [him as one] of our outstanding members."
Stoffa said he is thrilled to have received this honor, and he looks forward to the new opportunities ahead of him as captain. He said he is most excited to be leading a new set of people, as many of DeKalb's firefighters are young, and he is now in a position where he hopes he can help guide them.
"I want to thank everybody for giving me the opportunity to work here and be part of this," Stoffa said. "This is a great community; it's full of fun and filled with challenges everyday, and that's what makes this community unique."