Led Zeppelin to release DVD of 2007 show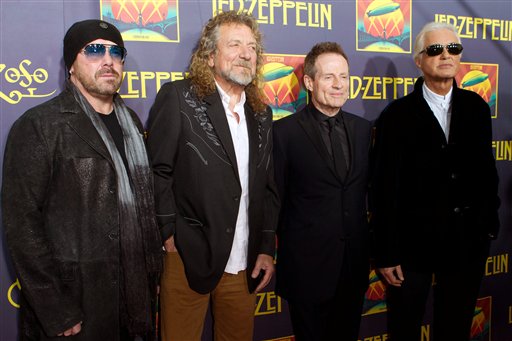 "It's been a long time since I rock and rolled," Led Zeppelin vocalist Robert Plant ironically sang during a second encore in December 2007. After not headlining a show in almost 30 years , yes, it had been a long time.
Rock and Roll Hall of Famers Led Zeppelin released their concert film, Celebration Day, in movie theaters around the world on Wednesday, and it will come to DVD and Blu-ray Nov. 19.
According to a Oct. 16 article on Usatoday.com, "Time—and time apart—has been very, very good to the three surviving blues-rock titans, captured here… on Dec. 10, 2007, their first headlining show in 27 years."
Wait, 2007? Why wasn't this released five years ago?
This is not the first time Led Zeppelin has waited several years to release a DVD. Led Zeppelin DVD, a two-disc compilation of live performances from the 1970s, was released in 2003.
Dick Carruthers directed both Celebration Day and Led Zeppelin DVD.
"No matter how brilliant it was, no matter what it captured, the band had felt that it shouldn't be released," Carruthers said regarding the 2003 DVD in a radio interview with KLOS DJ Gary Moore. "So in other words, it's a band that, when they want to sit on something until the time is right, they will." KLOS is a Southern California radio station.
Led Zeppelin drummer John Bonham is arguably the most legendary drummer in the world. Unfortunately, he passed away in 1980. A recurring question was, "Who will replace Bonham?" The answer: Bonham.
John's son, Jason Bonham, played the gig with Led Zeppelin. Other than Zeppelin, Bonham has lent his services to many other big names, such as Paul Rodgers, Slash and Foreigner. He also appeared on Vh1's reality show Supergroup in 2006.
Celebration Day is packed with high-energy, powerful, legendary musicians and memorable rock and roll. The closest theater playing the documentary is in Batavia, Ill., but remember, the DVD will come out Nov. 19.