Chantel Davis impresses in student recital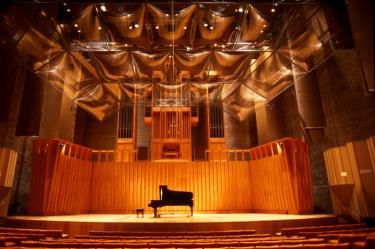 NIU's School of Music held another delightful livestream concert of a students recital. This time Chantel Davis performed her violin Recital on the school's YouTube channel NIUSoM Live at 6:30 Tuesday. 
During Davis' recital, I was impressed by her talent and how she was able to create powerful music with such a small instrument. Throughout the performance, she was able to keep a constant, almost mesmerizing effect.
Once she started playing, I was solely focused on the music. It almost seemed like an orchestra that people could attend at an opera house and get all dressed up to go to. Except, there were only two people on stage and individuals were able to watch it from their own home. 
One thing I didn't expect was for the performance to only be roughly nine minutes long. I thought there were going to be maybe two or three songs performed instead of just one. Although one song was played, it was done very well. It wasn't until the concert started that I realized there was going to be a pianist in this recital. 
After watching the concert, I thought that the pianist wasn't entirely necessary because it almost drowned out the violin. Most of the time the piano produced a deep and shallow never ending sound that would fill up the entire room. 
I learned a few new things about the violin while Davis was performing, like that there was a wide array of pitches the violin could be played at. I noticed when Davis was playing that the violin had more of a high pitched sound. This was surprising to me because I wasn't anticipating that kind of sound. I thought it would possibly have more depth, similar to the horn of a semi-truck, because it has that depthness. 
I noticed that Davis primarily kept the placement of her hand on the violin's neck toward the end where the knobs used to tighten the strings are, and I thought that's why the notes might be slightly higher and didn't sound as deep as I thought it would.
Another thing I noticed was how the violin bow was acting like a guitar pick in Davis' other hand when playing the instrument. Davis would gracefully guide the bow up and down the strings, creating the music. When she hit the notes that were deep she would make a more impactful striking movement, creating the depthness of those notes.
Overall, the concert was great and I can't wait to see what else NIUSoM Live has to offer in the future with their livestream concerts.